File Details

File Size
0.2 MB
License
Subscription
Operating System
Windows 7/Vista/XP
Date Added
December 7, 2009
Total Downloads
26,429
Publisher
AOL LLC
Homepage
AOL
Other Versions
Publisher's Description
America Online (AOL) is a leading Internet Service Provider (ISP) that provides users with access to both the Internet and special AOL content. It offers several individual channels of content and features that cover topics such as news and entertainment. Members can obtain up to seven email addresses per account, as well as 10MB of personal home page space. Buddy Lists and instant messaging features are also included. With an AOL account, you can utilize a vast array of chat rooms, message boards, and online stores. Other features include online screening software, user profiles, and easy access to the Internet with AOL's own browser. The installation utility simplifies setup by locating local dial-up numbers, finding your modem, and configuring your software. AOL provides hundreds of widespread dial-up numbers, many of which offer speeds of 56 kbps.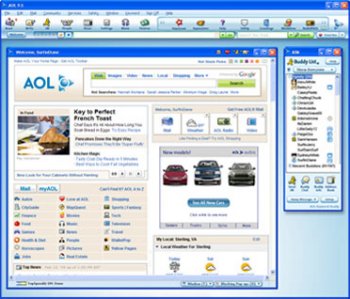 View Full-size
Latest Reviews
bainbridge02 reviewed v10.1 (2.1.97.1) Beta 2 on Aug 19, 2011
Browser speed is excellent and everything works great. Thanks.
bestguy4u46 reviewed v10.1 (2.1.97.1) Beta 2 on Aug 16, 2011
It's been improved this version. Good work.
AOL Critic reviewed v10.1 (2.1.97.1) Beta 2 on Dec 25, 2009
I used to love AOL. Its VOIP service was second to none. It provided various automated messages to give callers -- including informer the caller than you are aware of their call and will call within a minute. Then, we could save the voice messages online, archive calls, and block nuisance callers. It was a great service. I loved its chat rooms through which I made many friends from around the country and world, some of whom became business partners. Many were very well educated, bright, accomplished, and thoroughly delightful people. I had absolutely no complaints about the service beyond AOL"s customer service being outsourced to Indian. I have had some of the most interesting political discussions in real time on current events in these chatrooms, believe it or not.

Today, AOL is a different story. The news articles which greet users are geared towards the lowest common denominator to reach the maximum number of hits to drum up advertising revenue. Most of the articles are not news and gear towards the gossipy, irrelevant side. Some even amount to bait and switch. That's the least of AOL's problems.

Yes, I have experienced all the system crashes other people have written about here. The chatrooms are virtually empty now. (Wonder why? Where did all the subscribers go?) The only good part is the "favorites" section which allows me to quickly link onto news bulletins I follow.

Other than that -- the system is slow and malfunctions due to the higih memory it uses. Then, it MANDATES updates. If the system is working fine before, why should I have to update it. AOL doesn't even ask permission to update -- it informs you that it is going to update right now or you will not be able to sign on again. Sometimes the system will freeze and throw you off ...to force an update. Once you try to sign on again, you will get this error. Going around it is to no avail. Trying a clean erase and then reinstall and AOL will still demand the update.

Why should I be forced into allowing AOL to download more crap onto my computer -- especially when I don't even know what it is ..and the system was working fine before the updates..and then crashes afterwards.

Even worse, AOL breaks off my Internet connection entirely. The only way to fix the problem is to do run system restore 2, maybe 3 times -- taking upwards of an hour to do this each time, losing that much time in productivity. Try using AOL again...and it will again allow me an hour of tme to use its browser, then throw me offline, and then cut off myInternet connection and force me to do another system restore. It's just hopeless.

RIght now...I have done a clean sweep of AOL. I want to get online to AOL so i can retrieve my favorites and access them through my Internet browser...but when I Reinstall AOL..it demands I Allow downloads...I finally condeded to the downloads..and AOL tells me the system needs to reboot in order for the upgrades to take effect. The problem is that each time i reboot, i get the same error message. Presumably AOL has crashed..and I will never be able to access AOL again until I get a new computer.

I don't know who these positive posters are, but I assume they are AOL employees or shareholders. The system is horrendously bad right now. I have been a patient, understanding, loyal AOL subscriber...and I have frankly reached my limit as well. Too many hassles. No benefit derided from it.
ZenoLabs reviewed v10.1 (2.1.97.1) Beta 2 on Dec 10, 2009
Don't waste your time with this crap.
Timoleon reviewed v10.1 (2.1.97.1) Beta 2 on Dec 9, 2009
A triumph of the human spirit!
louisville09 reviewed v10.1 (2.1.97.1) Beta 2 on Dec 8, 2009
Software installation reports Unsupported Operating System on Windows 7. Will not install.
lestrange reviewed v9.5 Final (0.4337.148.1) on Oct 29, 2009
Turning off Topspeed in AOL 9.5. It's not hard. Go to program files\common files\AOL. Select Topspeed and send the whole miserable subdirectory to the landfill. Without Topspeed, the browser isn't bad--and the tabs are better than the little window button at the bottom of the page for opening a new window.
DoHickey reviewed v9.5 Final (0.4337.148.1) on Oct 15, 2009
The way you feel about the company is not a review of the software. A review is about the functionality of the program.
With that being said, I have no problems with this release. All other 9.5 betas that I tried had lots of little problems that made the experience like having a stick poked in my eye.
As long as some people prefer an all in one solution to the on line experience, AOL will be around even if it is the free for broadband service.
TomA102210 reviewed v9.5 Final (0.4337.148.1) on Oct 15, 2009
nvic said:

Reviewing 9.5 Final (0.4337.148.1) (Oct 15, 2009)

Ugh. I can't believe they still make this. Not sure how much worse they can make it.
----------------------------------------------------------------------------------------
Too bad your post is empty rhetoric, saying nothing at all of any substantive nature. And yes, they (meaning AOL) still makes "this" and "they" will continue to make this. The GM of this software is first class. Sure, there are still a few bugs, but show me a software that doesn't have a bug or two. I'll rate it a 4 and a half, but because the rating system doesn't accept halves, I'll make it a 5.
Next time try saying something about your experience with this GM build. That is if you even tried it.
nvic reviewed v9.5 Final (0.4337.148.1) on Oct 15, 2009
Ugh. I can't believe they still make this. Not sure how much worse they can make it.