File Details

File Size
1.2 MB
License
Shareware, $19.00
Operating System
Windows (All)
Date Added
January 22, 2020
Total Downloads
4,500
Publisher
G&G Software
Homepage
Aml Maple
Publisher's Description
Aml Maple is a new point of view at keyboard layout indicators: simple, modern, flexible. It's easy to find - just look at the typing place or mouse cursor. It's easy to understand - current layout can be indicated with colored symbols and/or national flag icon. It's easy to use - indicator is compatible with absolutely most of the programs: both windowed and console. It's easy to setup - 9 interface languages, 30 language layouts are supported out-of-box.
Aml Maple is a helpful indicator for the currently used keyboard layout. The indication is configurable and might be done in two ways either by text cursor or mouse pointer or both of them. The indication in the text cursor is done by changing its color and indicating the language name to or below of the cursor. The cursor width is also configurable. The indication in the mouse pointer is done by showing either the language name or country flag next to the mouse pointer.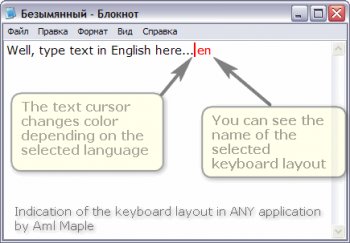 View Full-size
Latest Reviews
ivankizaru reviewed v6.08 Build 770 on Jan 3, 2020
Very cool addon to my cursor, i like it. Thanks to developers for this!!!
Venomsword reviewed v6.05 Build 758 on Nov 13, 2019
Overall I would recommend this program for those multilingual geeks and forum dwellers. It's saves your time by avoiding wrong keyboard layout typos. I think this functionality must be implemented in Windows by default.
InExSu reviewed v6.01 Build 753 on Aug 26, 2019
Yeeeeee ... Now I see which layout is active = reduced copying time.
vageladosgr reviewed v5.49 Build 741 on May 20, 2019
No more losing time on deleting text in wrong language!
VitVik reviewed v5.47 Build 738 on Mar 7, 2019
Excellent program, so used that I can not imagine working on a computer without it.
I work on Windows 7 and honestly speaking, I am strained by the constant control of the keyboard layout of the language. Aml Maple solved this problem for me !!!
I would also like to mention the work of developers, with each update more features and stability. Keep it up!
vanz22 reviewed v5.47 Build 738 on Mar 3, 2019
++!!!
PavelKuz2082 reviewed v5.36 Build 719 on Feb 3, 2018
I want a license :)
I use the program constantly
steven_tailor reviewed v5.31 on Oct 31, 2017
Thanks to the developers - finally found what I need! Absolutely the best app I worked with. It will save your time and nerves. Provides comfortable work when you need to type using several languages.
Serg.Alex reviewed v5.10 Build 696 on Jun 16, 2017
Great program! It is small in size, but it does what it takes. Without any unnecessary functions. What I was looking for. Thank you.
kleinstein reviewed v5.07 Build 693 on Apr 28, 2017
I am using Korean keyboard layout in German Windows 10.
And this tool make me very comfortable!
Without AmI Maple i had to always look at the right bottom corner of monitor and it disturbed me crazy.
But. Now! Wow!
I had to stroke more than once the shortcut key for Language Change very often. But i after installed AmI Maple, i stroke only once my shortcut key for typing the right Language.
I recommend AmI Maple to everyone, who need to typing the second or the third Languages under Windows!