File Details

File Size
196.6 MB
License
Freeware
Operating System
Windows 7/8/10/Vista/XP
Date Added
September 12, 2019
Total Downloads
1,121,941
Publisher
Apple, Inc.
Homepage
Apple iTunes
Other Versions
Publisher's Description
iTunes lets you create your own personal digital music library, allowing you to manage and play your music collection with drag-and-drop simplicity. iTunes, the software part of the equation that lets you pack 7,500 songs in your pocket, automatically synchronizes with the sensational new iPod at high speeds over FireWire. iTunes gives you the ability to generate dynamic Smart Playlists that reflect your preferences and listening habits. With iTunes it's easy to create CDs that play back on in your car, your home stereo, Macs and on Windows-based PCs. iTunes 4 adds the ability to share music among your Macs, play and encode AAC files, and view album art.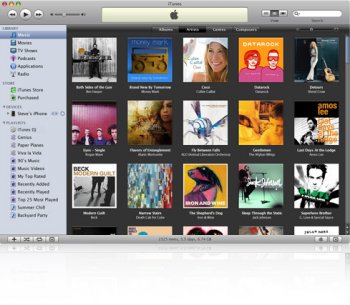 View Full-size
Latest Reviews
Someone reviewed v12.10 on Oct 22, 2019
I am gonna subscribe to your feed and I wish you dispatch again soon. http://gangstarvegas.io
Someone reviewed v12.9.4 on May 22, 2019
iTunes is an indispensable app for me, I already have my own digital music library on it, great. But the difficult thing is that I often have to upgrade the software but buy more capacity, the price is quite high

http://geometry-dash.net
Someone reviewed v12.9.4 on Apr 9, 2019
I like itune
http://sonicgames.co/
simonz reviewed v12.9.3 on Mar 27, 2019
A great tool for those who want to create a personal digital music library.
gmail sign up
hendryjullius reviewed v12.9.3 on Mar 15, 2019
good article
Someone reviewed v12.9.1.4 on Nov 16, 2018
About bluetooth
Jim reviewed v12.7.5 on Jul 10, 2018
It would be nice if apple used iTunes to bring more Mac-OS only activities to Windows, as well as find a way to compete more with Google ChromeCast using Apple TV.
Alas they don't;
And using what they do offer is mainly guesswork or google research.
(Apple user-to-user forums are flooded with the most simple questions and what's worse is they're often unanswered or poorly responded to).
harvaparva reviewed v12.7 on Sep 16, 2017
Cutting edge or bleeding edge that is the question
Steve1209 reviewed v12.6.1 on May 16, 2017
Does anyone have a good alternative program to store my ITUNES music and update my IPOD shuffle, I feel like this is the only software??
Picasso reviewed v12.6.0 on Mar 22, 2017
Worst of the worst!