File Details

File Size
0.3 MB
License
Freeware
Operating System
Windows (All)
Date Added
May 21, 2007
Total Downloads
11,086
Publisher
eSupport.com
Homepage
BIOS Agent
Publisher's Description
BIOS Agent is a simple, easy to use program that will automatically identify your computer's BIOS and other system information. You'll quickly identify BIOS Date, Motherboard OEM data, CPU data, BIOS Type, Motherboard Chipset, BIOS ROM data, BIOS ID String, Super I/O data, and Memory data.
This information is very helpful in the event you need or want to upgrade the BIOS and other components on your PC. The BIOS Agent program is totally harmless, will not damage your system in any way, and no hidden information about your system is submitted to a database without your prior knowledge first. It is simply a tool which you can use to obtain useful information about your system.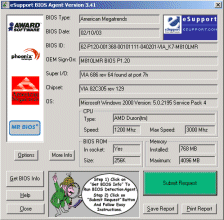 View Full-size
Latest Reviews
Staff_Tech01 reviewed v3.64 on May 7, 2007
This is useful simply becuase it saves you from having to dig into your BIOS to find the version or quickly hit the pause key as your machine posts.
toasale reviewed v3.61 on Oct 19, 2006
Ditto with those who claim: mass e's sent to make a purchase. If you try to e them/call them wanting to know "Will this support XP on an old PIII board?", etc. the answer is a pre-programmed answer, which gets you back to square one.
ZenWarrior reviewed v3.60 on Oct 12, 2006
I admit this rating is not only for the software, but also eSupport, the company behind it. I made the mistake of contacting them about a BIOS update. It took at least two months for the ***sales agents*** to cease filling my inbox with unwanted spam and attempts at high-pressure sales tactics.

BTW, aren't BIOS updates typically free? You'd never know that by listening to eSupport. It wanted to charge me approximately $40 for a BIOS update. Saying "No" to that only generated more high-pressure sales e-mails. "You'll be in big trouble if you don't update your BIOS!"

The world does not need firms like eSupport. Download and use the software, but do not make the same mistake I did to then contact eSupport. You *will* regret it.
Logistix reviewed v3.60 on Oct 11, 2006
The program started, but when I tried to retrive the data, it crashed.. Not sure why?

Nice effort, wish I could see the results ;)
Tosawyer reviewed v3.60 on Oct 11, 2006
Worked perfectly here.
PC Rat reviewed v3.54 on Jul 3, 2006
...

Worked as advertised.

...

The Computer Rodent

...
xer0 reviewed v3.54 on Jul 2, 2006
worked fine on my toshiba m100 laptop

although it doesnt know my bios type
Friar Tuck reviewed v3.54 on Jul 1, 2006
Just downloaded Bio Agent 3.54 and ran it. As soon a I clicked on "Get Bios Info" it disappeared. tried to reinstall it 3 time and download it twice. Time to go back to the drawing board BIOS Agent
Mark Gillespie reviewed v3.54 on Jul 1, 2006
Crashes on my PC, when you do "Get BIOS Info".

Sloppy programming and testing. 1*
spa2k reviewed v3.54 on Jun 30, 2006
this showed my processor as a celeron when it is a P4. Otherwise quite useful.