File Details

File Size
124.0 MB
License
Freeware
Operating System
Windows 7/8/10/Vista
Date Added
December 6, 2019
Total Downloads
40,438
Publisher
Ton Roosendaal
Homepage
Blender
Other Versions
Publisher's Description
Blender has proven to be an extremely fast and versatile design instrument. The software has a personal touch, offering a unique approach to the world of Three Dimensions. Use it to create TV commercials, to make technical visualizations, business graphics, to do some morphing, or design user interfaces. You can easy build and manage complex environments. The renderer is versatile and extremely fast. All basic animation principles (curves & keys) are well implemented.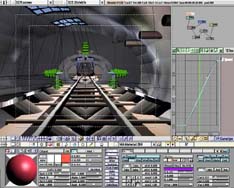 View Full-size
Latest Reviews
Aegis69 reviewed v2.78b on Feb 10, 2017
Unbelievable software, probably the best open source project anywhere
Aegis69 reviewed v2.71 RC1 on Jun 16, 2014
PLEASE UPDATE THE SCREEN SHOT I'LL EVEN MAKE ONE FOR YOU!!!!
lwvtutor reviewed v2.70 on Mar 21, 2014
Absolutely must have!
Qlib reviewed v2.70 RC2 on Mar 18, 2014
the workflow is still like being fisted by a cactus.. but at least there is progress...
chrispaul reviewed v2.69 on Feb 17, 2014
4 stars
Aegis69 reviewed v2.69 RC on Oct 7, 2013
Please update the program image.. that picture is from 5 years ago.
olivergiving reviewed v2.68a on Sep 25, 2013
nice
Vany reviewed v2.67a on May 22, 2013
why is the x64 version missing there?
Aegis69 reviewed v2.64 on Oct 3, 2012
I was a 3D geek and I knew a bunch of programs, 3DMax, Maya, Carrara but I was not a master of any of them, when it came time for me to do a serious project I wanted to do something that required more knowledge then I had any any one of those other programs, so I finally sat down and forced myself to learn Blender.

Damn I'm glad I did, its far easier and in some ways a lot more powerful than some of those other programs, and every single part of it is free, 100% free, including all addons that you might need for any demands of your project. I now use only Blender, all the other stuff went out the window.
nilst2006 reviewed v2.62 RC1 on Feb 10, 2012
A friend did show me Blender and what it could do. I say.-"WOW !". Really nice stuff i will try to learn use. :)