File Details

File Size
0.5 MB
License
Freeware
Operating System
Windows 2000/9x/Server 2003/XP
Date Added
February 2, 2004
Total Downloads
786
Publisher
IVR Software
Homepage
Call Alert!
Publisher's Description
Call Alert! enables your PC to recognize the caller without the need to answer. Call Alert! employs Caller ID service provided by your phone company, alerting you immediately when a new call arrives. Call Alert! notifies you of the call details unobtrusively by displaying a graphical tool-tip in the Windows taskbar, near the system clock.
It will optionally play back a ring sound, which can be customized depending on who's calling. You can always choose to disable all sound alerts whatsoever, or, for example, only ring if an important person is calling.
With Call Alert!, you can block telemarketers (or any other unwelcome callers) easily: simply select whole or any part of a telephone number, and add it to the "black list". Call Alert! will recognize such callers, and disconnect them automatically after just one ring. When an unwanted call arrives, the phone is simply disconnected.
Call Alert! uses latest technology to achieve smoothest, fastest operation. The software uses newest Microsoft text-to-speech (TTS) development for better quality voice announces.
Call Alert! will work on most PCs. It does not require an expensive voice modem; usually, any modem that is already installed in your computer will do.
Recent enhancements to the software provide a greater number of notification and alerting options designed to cater for the most demanding users. What is best, this convenient Caller ID software is completely free! Make your life more convenient with Caller ID service and Call Alert! software!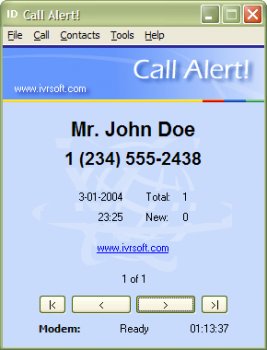 View Full-size
Latest Reviews
AustinK reviewed v1.0 Beta 2 on May 11, 2005
Good But phone tray free is better
AustinK reviewed v1.0 Beta 2 on May 11, 2005
Good But phone tray free is better