File Details

File Size
45.8 MB
License
Shareware, $40.00
Operating System
Windows 7/8/10/Vista/XP
Date Added
July 5, 2017
Total Downloads
128,278
Publisher
Poikosoft
Homepage
EZ CD Audio Converter
Publisher's Description
EZ CD Audio Converter is optimized for best audio quality, Fast and easy CD ripping, audio converting, and disc burning. All the best audio codecs are included. All audio conversions are made with 32-bit float accuracy. Supports multi-core processors and can run up to 8 parallel converters.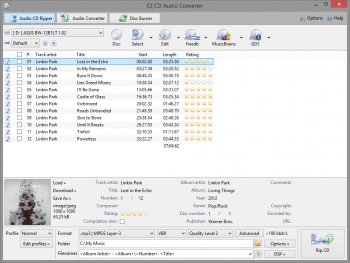 View Full-size
Latest Reviews
jowtron reviewed v6.0.2 on May 18, 2017
Still the best choice for bulk audio conversion.
FatBastard reviewed v2.2.2 on Nov 12, 2014
This is a very nice program.
mizkitty reviewed v2.2.1.0 on Aug 27, 2014
Not free...
infectiphibian reviewed v15.3.0.1 on Oct 19, 2011
New features:
- New Dolby Pulse AAC / HE AAC encoder
- LAME 3.99 MP3 encoder
- Automatic ReplayGain calculation
- ReplayGain "2.0": Original ReplayGain algorithm replaced with ITU-R BS.1770 (new standard, more accurate, faster)
- Ogg Vorbis codec improved and updated
- Internal sample rate converter set to highest quality mode
- Changes in Audio Converter internal behavior, making it faster in certain conditions
- Fixed AAC/HE AAC encoding problem in multi thread Audio Converter
- Updated Amazon Cover Art Search protocol to the latest version (old version will stop working on Feb 2012)
jowtron reviewed v15.2.5.1 on Aug 29, 2011
This is the best program out there for audio conversion/CD ripping. New version supports multi threading for modern processors and it has the best codec support. The developer is really on the ball with regard to feature requests and it is frequently updated. Well worth the money.
Input Overload reviewed v15.0.0.1 on Jun 9, 2011
CDx does a pretty good job for me & it's free.

Hey I'm a poet!
QQFarmer reviewed v2011.3 on May 3, 2011
Someone mentioned Exact Audio Copy. I tried it and I was not a bit impressed. The damn program wanted me to locate lame.exe in my system. How the hell could I know where that was? Of course I was kidding. I knew where lame.exe was. It's somewhere in the ECDE's installation folder! Easy CD-DA Extractor didn't ask me to do anything after I forked over 47 USD. I like that.
jan norway reviewed v2011 on Apr 8, 2011
I am extremely pleased with the program. However, I tried to get a free program recommended in this tread "Exact Audio Copy ". I pressed the download and ended up nearly to install a program called FoxTab. I stopped in the last second. I even donated 10 $ to this seemingly scam site.
I tryed Easy CD-DA to convert my files from WMA lossless to MP3 320 mbit. It worked super, and I paid the fee to buy it.
Beware of some of the so called free programs, as they may be dangerous.
Input Overload reviewed v2011 Beta 2 on Mar 16, 2011
Go for one of several free programs that do the job as well as this & maybe better.

missyup, I'm annoyed that your SPAM site is using a piccy of me at the bottom of your SPAM site. There must be a hidden camera in my bedroom that took a shot of me changing to go to the pub. :-)
FatBastard reviewed v2011 Beta 2 on Mar 15, 2011
This is a good program but why use it when there a several free programs that do the same thing?