File Details

File Size
1.3 MB
License
Freeware
Operating System
Windows (All)
Date Added
June 15, 2017
Total Downloads
19,540
Publisher
voidtools
Homepage
Everything
Other Versions
Publisher's Description
Everything is a fast folder and file name search engine for Windows. Unlike Windows search this tool initially displays every file and folder on your computer. You type in a search filter to limit what files and folders are displayed.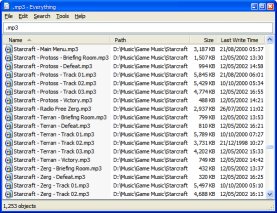 View Full-size
Latest Reviews
Pfurri reviewed v1.4.0.702 Beta on Sep 30, 2015
I'm using it since many years, and it's by far the absolute best search tool !!!
chillyb reviewed v1.3.4.686 on Jun 28, 2015
The fastest search tool available as everyone else has pointed out. Deserves at least 10 stars! ;) (Agent Ransack isn't too shabby either)
I've been using Everything for ~years~, and it's amazing how fast it is.
dhry reviewed v1.3.4.686 on Aug 7, 2014
Great software, but the author really needs to learn to wait at least 24 hours between releases. It seems there's a new release each time he changes one byte of bloody code!
egg83 reviewed v1.3.4.686 on Aug 6, 2014
Everything is beautiful, in it's own way...
JeremyP reviewed v1.3.4.685b Beta on Aug 5, 2014
Andy2004 - it doesn't "Update the database every time...", it uses the MFT(s). Which is why it is blindingly fast. Suggest a disk check
Flecha_Negra reviewed v1.3.4.670b Beta on Jul 1, 2014
Slow?!... maybe we are talking about different softwares... I have Everything installed on an old computer connected on a Novell network (ethernet) and I have mapped different physical supports:
- my internal drives C: and D: (of course)
- my external disk G: (USB 2.0)
- my USB Flash Drive M: (USB 2.0)
- my network drive P: (on a server)
- my network drive Q: (another server)

Guess what? Everytime I change any folder (new file, delete file, change names, etc), Everything updates the database on the fly and is instantaneous.

If I impose an update to every drives (force to update) it tooks me about 1 minute... and I have about 800.000 files to scan... so, Everything it's not slow. You have something else on your system that is not correct.
Hall9000 reviewed v1.3.4.666b Beta on Jun 24, 2014
Slow? What are you using, Andy? A 286? I have my main drive and 2 other hard drives and the search is still blazing fast. I still have the same opinion as my previous review. 5 stars.
andy2004 reviewed v1.3.4.663b Beta on Jun 17, 2014
Just starting using this, if like me you have quite a few harddrives this programs is SLOW, as it updates it database everytime you run it, "feature which you the end user should be able to disable" if you dont change files on a daily basis or move things around. aka you should be able to update when you feel the need. not everytime you run it. now whilst its updating it database its pretty much useless, now after waiting 50minutes plus each time i restart this app due to the 600-700mb its likes to consume windows search is faster. Given it a 3, would be a 5, but no way to stop it updating the database everytime you run it. would like to be able to disable and run once a week.
Aegis69 reviewed v1.3.4.663b Beta on Jun 17, 2014
I like everything.