File Details

File Size
0.4 MB
License
Freeware
Operating System
Windows (All)
Date Added
July 16, 2007
Total Downloads
699,408
Publisher

FireUse4WM
Publisher's Description
FairUse4WM will extract the personally identifiable information (description keys) from Media Player for the purpose of allowing the user to improve the interoperability of legitimately acquired media files. At least one file with an active license is necessary.
Instructions: To actualize fair use rights with the new IBX, first run 'mirakagi' which will enter the IBX keys into the FairUse4WM blackbox-keys.txt text file. Next, you should use the attached version of FairUse4WM, 1.3Fix-2. This includes an important fix for a video corruption bug, often seen in scenes affording high compression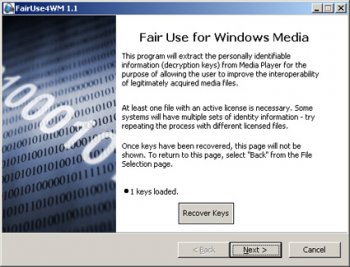 View Full-size
Latest Reviews
Someone reviewed v1.3Fix-2 on Aug 31, 2019
Get call girls phone number in Delhi and enjoy call girls escort service. We provide Independent Call girls in Delhi services at 24*7 hours as per the client's requirement. Our escorts will provide full services to you at least in time so that you do not have to face any problem from us and you also get your work done in less time. You do not even need to spend more for these services. Delhi Escorts is providing high class services for clients fully satisfaction and enjoying our company. Our escorts are very popular in every fields serve the best opportunity to our clients.
Delhi Escorts
Someone reviewed v1.3Fix-2 on May 17, 2019
Hi guys if you are like the online games to enjoy the more games are this website http://bejeweled3.co more user are play the more games if you are connect the any time and and anywhere you are choose the right information.
balanceinmotion reviewed v1.3Fix-2 on Sep 24, 2014
awesome tool
mikebratley reviewed v1.3Fix-2 on Mar 11, 2014
good stuff
chrispaul reviewed v1.3Fix-2 on Feb 17, 2014
5 stars
barrytbutler reviewed v1.3Fix-2 on Jan 29, 2014
very cool program and works like a charm.
kerimachin reviewed v1.3Fix-2 on Jul 22, 2013
awesome! top notch
dubstepmaker3000 reviewed v1.3Fix-2 on May 8, 2013
pretty cool
glenchen81 reviewed v1.3Fix-2 on Mar 25, 2009
Where can I download this?
jpasula reviewed v1.3Fix-2 on Nov 22, 2007
I can't seem to get this to work. =/

It crashes on my Vista machine.

I recently upgraded PCs and dealing with the DRM has been a pain (all 100% legit music as well). :(