Publisher's Description
Heatsoft Automatic Synchronizer (HAS) is an easy-to-use program designed for an automatic synchronization, backup, replication, and mirroring of important files on most storage media or even between two computers on a network. With HAS you can easily keep all important files synchronized between servers, desktops, notebooks, LANs, ZIP disks, secondary hard disks, etc.
HAS allows you to compare and synchronize multiple folders at the same time in a manual mode with a single mouse click or in an automatic mode with scheduler.
Well designed user interface of Automatic Synchronizer guides you to take synchronization easily without spending much time to explore the product. Just install it, select your data, set your method for synchronization and you are now ready to take sync.
Automatic Synchronizer can work in the silent mode. It allows you to execute scheduled sync in the background every time when you work, without your attention and thus save your time.
The schedule options are very flexible which makes it easy to define the sync plan and set the program to sync your data daily/weekly/monthly or yearly at a specified time.
HAS Job Wizard provides most of the building blocks of jobs for you, such as the preinstalled synchronization methods. You can quickly setup sync process and save your time.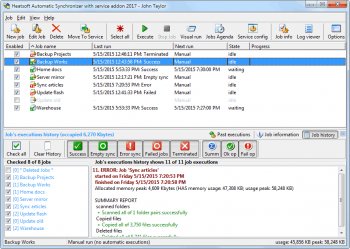 View Full-size
Latest Reviews
Be the first to write a review!