File Details

File Size
49.6 MB
License
Adware
Operating System
Windows 7/8/10/2000/Vista/XP
Date Added
December 3, 2019
Total Downloads
378,530
Publisher
ICQ, Inc.
Homepage
ICQ
Other Versions
Publisher's Description
ICQ is a program that lets you find your friends and associates online in real time. You can create a Contact List containing only people you want to have there, you can send them messages, chat with them, send files, configure ICQ to work with external applications and more.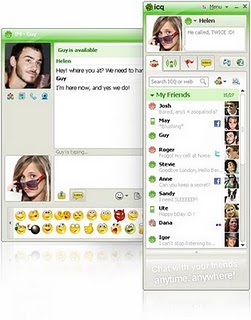 View Full-size
Latest Reviews
Someone reviewed v10.0 Build 35828 on May 17, 2019
This is the new upgrade web browser if you are working on this web browser then you are forget the other web browser than one time try the this web browser https://foxdownload.org the perfect working and smart working are this website.
VictorAnderson reviewed v10.0 Build 12376 on Oct 31, 2018
Ahh yes -- good old ICQ -- those were the days. Fire up the ICQ while sifting the seeds out of my AOL CD case / pot-tray.
25_manken_25 reviewed v8.0.5745 on Oct 16, 2012
10 years ago top, today flop
FatBastard reviewed v8.0.5745 on Oct 15, 2012
Wow does this crap still exist?
Aegis69 reviewed v8.0.5745 on Oct 15, 2012
TIL: ICQ is still a thing.
Someone reviewed v7.5.5242 on May 18, 2011
Used to be the greatest thing since sliced bread.
smanofsteel76 reviewed v7.2 Build 3525 on Jan 10, 2011
IC-who?
zxlotusxz reviewed v7.1 Build 2096 on Mar 24, 2010
The only reason I ever used this messenger was because it was the first instant messenger on the internet literally, and I used to play Ultima Online, which is arguable still one of the better MMOs out there in comparison of features and rules sets.

and well I despise this after they forced a password policy change and if you were using a 3rd party messenger you didn't get a notification about the password policy change and you got locked out of your account.
Dark-Phoenix reviewed v6.5 Build 6342 Beta on Sep 9, 2009
ICQ 6.5 as with 6.0 is essentially the same bloatware. We (ICQ users) want it to be slim, fast and take less then 10Mb ram at any given time. Can you manage that? well you could with 5.1... so WTF? it should take now 60-80Mb and work so slow? Disappointing.

Oh well, still got 5.1 (yes, it can be still used).
rotjong reviewed v6.5 Build 6342 Beta on Oct 10, 2008
ICQ was great when Mirabilis owned it. Once AOL acquired Mirabilis things just headed downhill. Slow release cycles. Buggy releases. The program became enormously bloated. AOL finally went the Lite route but they went too far the other direction and left out important features. AOL killed off the use of ICQ for the vast majority of people who once loved it. The new look is interesting but I'd prefer more normal than flashy. I still have my old original UIN. I've moved on to other things. I remember when MSN Messenger was garbage and ICQ was awesome. Now Windows Live Messenger is hands and shoulders above ICQ. AOL doomed ICQ when it became the owner of two IM clients (AIM & ICQ) and effectively brought about the death of ICQ as a competitor in the IM universe.

I've used the newer versions including this one. It works. It still has the basic characteristics of the original program. I moved on. I'm rating this a 3 because it does what is intended. I can't give higher because I feel the product is inferior to what it should be given its history and what it could be if they spent more time working on it. I would like to give it a lower mark but I cannot because it does do what it is supposed to.