File Details

File Size
3.2 MB
License
Shareware, $19.95
Operating System
Windows 2000/9x/Server 2003/XP
Date Added
December 16, 2011
Total Downloads
67,359
Publisher
MetaProducts Corp.
Homepage
Mass Downloader
Publisher's Description
Mass Downloader allows you to download files from the Web and FTP sites at the maximum available speed. Multiple downloading channels technology significantly decreases the time necessary to download files. It also allows you to browse Zip archives before loading them and to choose only the desired files to download. It has an excellent Internet Explorer-like user interface.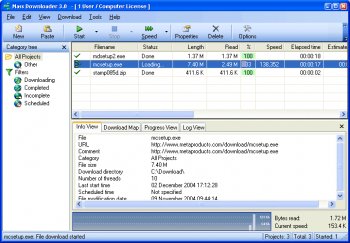 View Full-size
Latest Reviews
DaveBG reviewed v3.7.797 on Apr 18, 2009
This program is the best because it has preview and DL of ZIP files. No other D manager can do that. Yes FG is better in everything else but lacks something very important like this feature. This is why this program deserves 5/5!
Morningdove reviewed v3.7.797 on Mar 24, 2009
I purchased Mass Downloader in 2002 for $20. The program is still being improved, it still costs $20 and I am still getting free upgrades. Now that's about as close to being freeware as a supported shareware program can get.

And by the way, I still prefer Mass Downloader over all of the programs I have tested between then and now.
vesku reviewed v3.6.759 on Dec 6, 2008
I tested 6 download managers, including Orbitdownloader, Download Accelerator Plus, Free Download Manager, FlashGet, Internet Download Manager and this Mass Downloader, and this one was the best: it could download all from the trickiest sites and links, that many of the others could not get. This is the best download manager i have used, and i purchased the license, -the price is affordable.

I think that the purpose of rating programs here is not about being generous or not (see the review below), but the rating should be based of how well the programs work and how good they feel. There's no sense to give a poor rating to the program just because it's shareware.
PRoBiSoNe reviewed v3.6.759 on Nov 5, 2008
Why anyone would pay for something like this when there are apps like FlashGet and FreeDownloadManager, which are FREE and FULLY feature functional! Sry, but I have to give it a 1. Not in a generous mood today I guess... :S
eviljolly reviewed v3.3.677 Beta 1 on Mar 28, 2007
Does the job, but only as good as some freeware programs. Lacks some options that other programs like getright and download accelerator plus have, but I don't much like either one of those anyway because they're too cumbersome. Overall it's worth a try. This will suit the needs of most downloaders.
Matb_TePe3a reviewed v3.2.631 on Oct 18, 2005
I have downloaded 3GB file in 7 hours.

If you have connection problems, contact your ISP.
Zygi reviewed v3.2.623 Beta 1 on Sep 24, 2005
Wow you're all genius people, if you couldn't change look. If you rate program from screenshot then you're truly a ignorant, like these who rate programs lower, because they're shareware or demo. Do you think everything have to be freeware or open source ??? If something isn't for free, then its bad, i think people deserve money for they hard work, after all we all have to eat. I have been using mass downloader for a long time, its realy great downloader, i have tried reget, getright, gozzila, flashget and few others. I liked mass downloader most, even if its shareware. If you don't like look of office, you can change it right now. At least give it a try, before you rate it from screenshot or because its not freeware - its realy great app !!!
B3AN reviewed v3.2.623 Beta 1 on Sep 23, 2005
My interface doesnt look like the screenshot. And personaly I think it looks pretty good, much better than most.
berserkchaos reviewed v3.2.623 Beta 1 on Sep 23, 2005
poor english ;)

massdownloader is a great software but FDM does the job for free...

i remember getting files from ZIP's (mostly rom's) when MD was still a freeware.
Wings reviewed v3.1.607 SR1 on Jul 2, 2005
I never understood how people can stand programs with the ugly Office 2003 look. I'm a graphics designer and get really distracted by that.
Enough reason for me to look somewhere else.