File Details

File Size
7.6 MB
License
Open Source
Operating System
Windows 7/8/10/2000/Vista/XP
Date Added
June 27, 2017
Total Downloads
148,968
Publisher
Miranda
Homepage
Miranda IM
Other Versions
Publisher's Description
Miranda IM is a multi protocol instant messenger client for Windows. It is designed to be resource efficient and easy to use. It uses very little memory, requires no installation and can easily be carried around on a single floppy disc. The goal of this project is not to duplicate the functionality of AOL's ICQ Client, but to design a client that has the basic features that is designed for mouse-less operation with a small memory requirement.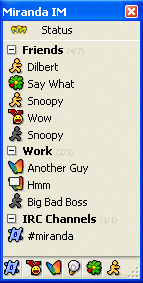 View Full-size
Latest Reviews
Sven123456789 reviewed v0.10.54.0 on Sep 10, 2016
Not good
-Lord- reviewed v0.10.47.0 on Mar 8, 2016
and here's this releases' notes:

Bugfixes:
– Update SQLite library

so they've basically done nothing.
-Lord- reviewed v0.10.31 on Apr 27, 2015
This is the release notes for this release:

Enhancements:
– Add SQLite database driver beta to contrib package (Use at your own risk!)

and that comes from the Miranda page. Funny... they refuse to incorporate Bonjour, which a WIDE base uses, especially in Mac/PC environments... but they will include a driver beta and warn you that it's at your own risk.

It's official. Miranda devs are the dumbest mofos in captivity.
-Lord- reviewed v0.10.24 on Sep 9, 2014
no bonjour support.
Pidgin beats this
Sven123456789 reviewed v0.10.23 on May 16, 2014
people still use this?
-Lord- reviewed v0.10.20 on Dec 19, 2013
First, to dhry..
Understand that while it's fairly useful, it's not
Complete if it can't fully do what it says. We
Know it supports a lot of platforms but the

One that some have been asking for
For more than one release, and as
Frequently as we've been asking.... should have gotten results.

And
Secondly, there is no need to troll. If you like the
Sorry software,
Have at it. But it's not the most complete. Trillian is.. even though it's
Overly priced, the shareware version no
Longer expires, and it's complete and works
Exceptionally well.
Fred G. Sanford reviewed v0.10.20 on Dec 18, 2013
I've lost count of the number of minor point release "upgrades" this application has gotten in the last few years, with virtually no actual improvements to its functionality, only bugfixes. The developers willfully ignore all requests - see their forum for endless examples of this. It's basically going in circles at this point and we'll sadly never see a "Version 1.0".
dhry reviewed v0.10.19 on Nov 8, 2013
Thrilled beyond measure to discover that the latest version still doesn't support bonjour, that it fits on a floppy disk and it's basically still the most fully-featured, well-programmed multi-protocol instant messaging application available. Props to the devs!
dhry reviewed v0.10.18 on Oct 23, 2013
Outstanding application. Particularly because they don't support bonjour.
-Lord- reviewed v0.10.18 on Oct 22, 2013
Still no bonjour. Tragic that the developers refuse to listen.
Even pidgin has bonjour and is just as portable.

if I could rate a negative number, I would.