File Details

File Size
0.2 MB
License
Freeware
Operating System
Windows (All)
Date Added
November 15, 2007
Total Downloads
107,090
Publisher
StreamCast Networks, Inc.
Homepage
Morpheus
Other Versions
Publisher's Description
Morpheus makes it quick and easy to search, discover, download, and play all types of media files including MP3 audio, music, movies, videos, games, photos, and documents. Search multiple P2P networks including the new Neo Network, BitTorrent, and Gnutella to download more files including rare and unique content you can't get anywhere else. Morpheus protects your privacy with access to public-proxy networks; works with your antivirus software; returns fast, multisource downloads; provides Bitzi antispoofing lookups; and includes new community features and parental filters for safe downloads.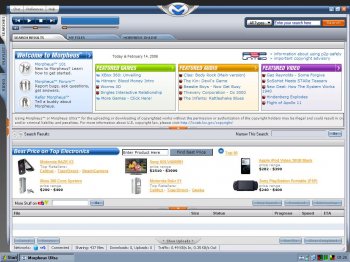 View Full-size
Latest Reviews
Zee333 reviewed v5.5.1 on Aug 30, 2009
This site does not allow downloads of Morpheus, go to the official Morpheus site instead www.morpheus.tk
David_2005 reviewed v5.2.2 on Jul 30, 2006
This is very good still, but i think they have sh*tted it down abit to make Ultra stand out

Still the best P2P client in my opinion.
Zankur reviewed v5.2 on May 10, 2006
well this version has found my favour....very good and excellent program..but u can always debate about the ads,which is why 4stars!
CreetGuy reviewed v5.2.0.920 Beta on Mar 26, 2006
Morpheus 5 is actually very good, i didn't trust Morpheus since their past has been bad but seems they have cleared their act tigether and put some nice features into this program, also the new interface is very nice, better then the other P2P software, as for downloads 300KB/s + on 2MB Broadband, search results are better then all other P2P, i had to enable Gnutella2 in the preferences also which got me more search results
Peace Out
Adrian79 reviewed v5.2.0.920 Beta on Mar 24, 2006
i miss the pro version :-( not that bad though... basic good enough

----------

ohh... windows one care...does not like morphues! wow u'll see what i mean when u try to install it lol

doh~
Adrian79 reviewed v5.2 Beta on Mar 22, 2006
damn loader stopped working few builds ago :-(

well, back to basics lol
Ampbeta reviewed v5.1.2.912 on Mar 19, 2006
good program 5 gnutella ultrapeers and 3 g2 hubs, but someone tell these fellas to make it way less buggy, much more stable cause the constant little jumps and glitches are terrible, other than the the best g1 and g2 client, also make the searches faster, the banners dont bug me cause of Ad muncher.
David_2005 reviewed v5.1.2.910 on Feb 16, 2006
It works! Getting speeds of 135KB/s on 1MB its great, always getting better
Zankur reviewed v5.1.2.910 on Feb 15, 2006
Pathetic...I just downloaded it after version 5,and its still the same..
The song i tried to download,it found 21 sources for it,could barely connect to 2-3 of them with download speed of 4-5 kbps...on other hand limewire 34 connections,connection to 9 and speed of 37kbps...
superman2k6 reviewed v5.1.1.884 on Jan 31, 2006
Great program, have had nothing but good luck with this, so fast, so many search results best thing is no spyware installed greatest p2p application on the internet