File Details

File Size
59.5 MB
License
Freeware
Operating System
Linux
Date Added
April 9, 2019
Total Downloads
107,468
Publisher
Mozilla
Homepage
Mozilla Firefox
Other Versions
Publisher's Description
Mozilla Firefox is a free and open source Web browser descended from the Mozilla Application Suite and managed by Mozilla Corporation. Firefox is the second most widely used browser.
To display web pages, Firefox uses the Gecko layout engine, which implements most current web standards in addition to several features that are intended to anticipate likely additions to the standards.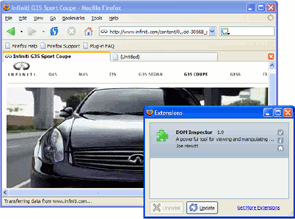 View Full-size
Latest Reviews
SineWave reviewed v51.0.1 on Jan 29, 2017
I've been using Firefox for many years, first in Windows XP and then in Debian. At some point betas as well as normal releases became too unstable for me to use so I started using ESR versions. Now even ESR versions seem like betas. Something is just not right with Firefox any more. It lags in about everything you do with it, but I'm so dependent on it. Sad. It must be overbloated with trashy code, I don't see any other reason why it is so laggy. And in the mean time I changed three PCs in the last 10 years. The one I have now is far more powerful than the first one. Mozilla, please hire some better coders and/or make a new browser from the ground up. This is going nowhere and I'm considering using alternatives. You've lost so many users in the last 10 years and it is perfectly understandable why. It' a shame though because we do need an open source browser. Good luck! Can't give you more than 3 stars and that is for the effort. Your programmers suck big time.
tontito reviewed v7.0 Alpha 1 (Nightly Build) on May 27, 2011
Do they really need to different versions for alpha builds?...
Alpha258 reviewed v4.0 on Mar 22, 2011
Use the PPA for Ubuntu if you want to get the latest stable version in your updates.

Open Ubuntu Software Center>> Edit>> Software Sources...

Click Other Software tab and click Add.

Then just paste:

ppa:mozillateam/firefox-stable

Click close. Open your Update Manager and you can upgrade from 3.6 to version 4.0. Sweet!!
Aegis69 reviewed v4.0 Beta 10 on Jan 25, 2011
If you are 64bit Linux this link will give you a 32 bit version which will run, but none of your plugins will work. For a 64 bit version, check here;

http://nightly.mozilla.org/

Incidentally I'm on FF4 on Ubuntu64 and its literally 60% faster than FF3.6, really really amazing improvement.
roj reviewed v3.6.6 on Jul 9, 2010
**deleted**
4 for incredibly slow UI.
Virtual_ManPL reviewed v3.5 Beta 4 on May 1, 2009
Work like hell with JIT default enabled !!!
AlanS2001 reviewed v3.5 Beta 4 on Apr 29, 2009
Still the best!
DudeBoyz reviewed v3.0.4 on Nov 12, 2008
I like much about 3.0.4. It installs over existing versions without breaking anything, so my plug-ins and themes are fine.

However, this specific version under LINUX has some Serious Font Rendering Problems, especially compared to Opera 9.x for Linux.

On the Windows side, this issue does not seem to exist. But under the Linux distrobutions I have tested it with (Kubuntu, Mandrake 2009, openSUSE 11.x and others) the font rendering is very, very poor compared to Opera.

If you have any doubts about the veracity of my claims, please, test it for yourself. It is painfully obvious, and very frustrating.

It is because of that problem in particular that I'm rating Firefox lower on the Linux side than on the Windows side.

If there is some way that they can fix that font problem in the browser engine, I'll bump it up a notch in score. But until then, a 3 is what I think it deserves.
Virtual_ManPL reviewed v2.0.0.17 on Nov 1, 2008
The BEST browser form me !!!
Secure, fast, stable and powerfull with extensions !!!

@ Meth - are you n00b or what ?!
Iceweasel is rebranded Mozilla Firefox by lame Debian proggramers because of DFSG...