File Details

File Size
39.6 MB
License
Freeware
Operating System
Windows (All)
Date Added
November 1, 2018
Total Downloads
1,221,886
Publisher
Mozilla
Homepage
Mozilla Firefox
Other Versions
Publisher's Description
Mozilla Firefox is a free and open source Web browser descended from the Mozilla Application Suite and managed by Mozilla Corporation. Firefox is the second most widely used browser.
To display web pages, Firefox uses the Gecko layout engine, which implements most current web standards in addition to several features that are intended to anticipate likely additions to the standards.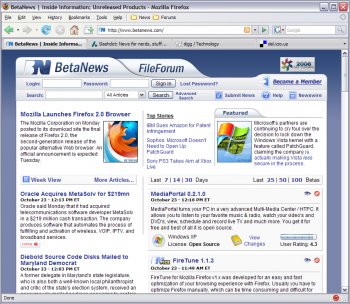 View Full-size
Latest Reviews
dr_white reviewed v62.0.2 on Sep 28, 2018
Used to be good, now its chrome with a skin.
bigspud reviewed v61.0.1 on Aug 7, 2018
still not as good as
cltx99 reviewed v59.0.2 on Mar 29, 2018
I went a bit overboard with my first review. After using 59 for a while I like most everything about it. As time went on, I found FF to be rather slow in page rendering, slow to load my home page, some sights not loading photos and sometimes freezing. Overall, Slimjet is a better performer, but it's so damn ugly that I don't like using it. FF is good looking, but doesn't live up to all the hoopla and propaganda that preceded it.
cltx99 reviewed v59.0 on Mar 14, 2018
59 is well designed and responds well. It's easy on the eyes and also quite fast. All in all, I'm quite pleased. It seems that FF has won me back. Well done.
As an SEO professional, browser speed is crucial. I am also testing and tweaking constantly. Interesting to see all future updates.

Dev
____________________
http://devchatterjee.com
Aegis69 reviewed v57.0.1 on Dec 1, 2017
Fortunately I was able to find alternatives to most of my old addons, and once I did that and got them all configured things are working pretty good. FF feels like a real, professional browsing product now, although its still very slow on Android compared to the competition. The real problem is the neglect FF gave to its user base, they should have improved the speed literally 5 years ago, but they were too busy integrating pocket and 15 other things no one asked for. Mozilla is probably dead within a year, but I can finally say that FF is a real broswer again.
Sven123456789 reviewed v57.0 on Nov 16, 2017
The slide continues. With 57 most net users will move on to prob chrome or like me, other mozilla/gecko clones. RIP FF
bigspud reviewed v57.0 on Nov 14, 2017
yes
i need 26 addons to fix ff
now they really forked it up
and cant be fixed
bc the old addons wont run
Zootopia3001 reviewed v57.0 on Nov 14, 2017
BIG improvement since version 50, a version that started making Firefox sluggish for me, this vastly new version 57 resolves the problem I was having. No stuttering live streaming, no browser sluggishness. It's fast and snappy.

However, this version breaks a LOT of addons. Until either Video DownloadHelper or KeepVid Pro comes out with a compatible update, I can only give Firefox 4 stars for now, and thus can't use as main browser. I need an ad blocker (AdGuard works just fine) and a video downloader, those are the only two addons I truly really need.
landfish reviewed v57.0 on Nov 13, 2017
I'll stick with 56.02, 57 looks and feels terrible ... when will they learn.