File Details

File Size
46.3 MB
License
Freeware
Operating System
Windows (All)
Date Added
February 11, 2020
Total Downloads
1,227,935
Publisher
Mozilla
Homepage
Mozilla Firefox
Other Versions
Publisher's Description
Mozilla Firefox is a free and open source Web browser descended from the Mozilla Application Suite and managed by Mozilla Corporation. Firefox is the second most widely used browser.
To display web pages, Firefox uses the Gecko layout engine, which implements most current web standards in addition to several features that are intended to anticipate likely additions to the standards.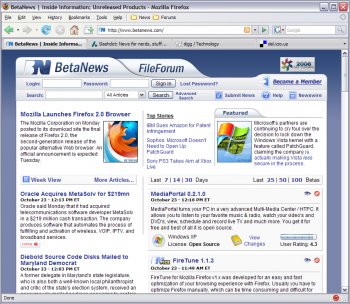 View Full-size
Latest Reviews
Monkey_Punch reviewed v70.0 on Oct 22, 2019
Maybe not as fast as Chrome in a few benchmarks but certainly runs circles around Chrome on my Android in terms of *NOT* suffering browser hijacks and other issues. Works well for what I need and still gettign faster with every version.
Pkshadow reviewed v68.0.1 on Aug 1, 2019
Not sure why this is up as 68.0.1 was released July 18.
Am thinking since the beta version of 69 is in the last faze of testing it will be released shortly.

For Extensions there are more than enough alternative ones to be found built by other Developers that are more secure and does not crash Firefox with their buggy old code as it used to.
Most older Extensions/addons were abandoned by their Developers and were not getting fixed or updated as Firefox progressed with forward thinking code and fresh ideas.

For XP users sorry but you should not be out on the net as you are a hazard to other users with a non-supported OS.
Should be kept for playing older games or running older programs.
Linux is a Viable alternative to XP.
Please install it and consider other net users.

The cloud backup is a Option only. You do not have to use Sync at all as it is not a backup. Sync is for transferring data from 1 device to another so that they are the same. Thus is named Sync.
If wanting backup use proper backup software to do so.
Monkey_Punch reviewed v68.0 on Jul 9, 2019
Being that Mozilla doesn't make add-ons and if your precious add-on isn't yet updated, complain to the author, not Mozilla. Giving 1 star for this is idiotic. Like complaining about lack of driver support for XP. Get over it.

68 is a nice perf improvement over the 60.x ESR series. Webrenderer is nice perf improvement too.
Get Waterfox faster, lets you keep you original Addons Firefox Downloads had which some are important or useful in backup, protection, etc., Were done here Mozilla and thanks for deleting virtually all original addon downloads ......
ankur9 reviewed v67.0.1 on Jun 4, 2019
a good browser.
Monkey_Punch reviewed v67.0 on May 20, 2019
I noticed certain sites load much faster on 67 than with 66 and before. CNN loads in 1.5 seconds whereas before it took about 3 seconds. And I'm using a 7+ year old laptop. 68 should be even faster. Thanks Mozilla.
Monkey_Punch reviewed v66.0.5 on May 8, 2019
Still my go-to browser. Still customizable right down to the CSS code or via about:config.
Monkey_Punch reviewed v66.0.2 on Mar 27, 2019
Still my go-to when all else fails or is just trying to make money off me.
toshibawhite reviewed v66.0.1 on Mar 27, 2019
Kaspersky support phone number +1-855-855-4384 is a renowned company which offers one of the most well-known antiviruses in Worldwide. Kaspersky support number is useful for virus assurance, web security, and malware and spyware protection. Kaspersky helpline phone number is planned and customized to keep your framework from conclusive malware and infections that can crash your framework and Put you in a bad position. Kaspersky help phone number gives you security and wellbeing with high development devices. Kaspersky customer service phone number experts assist you with the main endpoint insurance and various specific security arrangements and administrations to battle refined and advancing computerized dangers. A million customers are ensured by Kaspersky customer care phone number administration and help. Kaspersky technical support phone number official see how irritating such issues may appear and subsequently offer the prompt answer for such mistakes. Kaspersky tech support phone number give you exact and moment headings by following which you can settle issues you are looking with your system
Monkey_Punch reviewed v65.0.1 on Feb 15, 2019
I still trust Firefox far more than Chrome or Opera. You can still customize it but certainly much of the power tuning is being hidden in about:config rather than the Options menu. While it has become a tad more naggy recently, you can always turn off the nags as before. The Android version still needs work to be faster but I don't get browser hijacks like Chrome. Chrome is killing Firefox in speed on Android but no surprise as it's a Google product.