File Details

File Size
2.9 MB
License
Freeware
Operating System
Windows (All)
Date Added
October 5, 2016
Total Downloads
305,561
Publisher
Nero AG
Homepage
Nero Video
Publisher's Description
Nero Video is the only fully integrated video editing product that combines easy organizing, with powerful video editing and authoring as well as superb playback of all your media. If you're looking for a unique solution to capture and organize your footage, edit and author video and slideshows and to play them back on your TV or PC, Nero Video is the answer. With its task oriented home screen including a drop zone for files it has never been easier to get right into your desired project and achieve perfect results in no time. You will also like the unique media organizer making sorting, pre-selecting, and using your preferred files in your video project a blast. With fast and easy yet very creative Express video editing you can achieve pro looking results in no time. Switch to advanced editing, within the same user interface, to get full control and multi-track editing with versatile key-frame handling for video effects and animations. High quality video export to file, the web, and fully customizable Hollywood style DVD and Blu-ray Disc is easy to do with Nero Video. Finally playback of your video discs and files is at your fingertips. Even use Play to TV streaming to present your latest video or slideshow on the big screen in the living room via network streaming right away.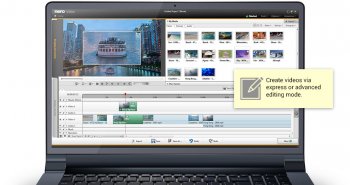 View Full-size
Latest Reviews
BANDIT- reviewed v15.0.03400 on Jul 24, 2014
EH..!!

I reckon Nero are making a last Ditch attempt with This. The serious Coders have all Gotten their App's by Now. (Open source & Freeware) at that.... lol

Go on.. Click the Homepage link in the Preview Above... What jumps out..??
Freeware my ASS. Nero was good back in the 90's, But trying to Revive it is
a bit In-line with the same Attempts By DvdFab... Long gone & Mainly Forgotten.

I'll give this product 1*. Purely because I used it way.. W A A A A Y back.
tbresson reviewed v3.1.0.25 on Sep 29, 2006
I had some problems with audio/video sync but the application in it's whole is really good, it's user-friendly and it doesn't require the user to know anything about transcoding.

The program does not work too well with large DV files, transcoding your DV to mpeg2 pleases the app a lot.

I'm not sure the product is freeware. There are two versions - one with the Yahoo Toolbar and one with out, perhaps the one without the tool is free.
carlo_tor reviewed v3.1.0.25 on Feb 4, 2006
I like Nero Recode. I mainly use it to shrink a DVD so that it fits into a standard DVD (4.3 gigs); Nero recode is much faster than DVDShrink and the quality is good. But the SIZE bug is still there: in many cases the resulting files are too large and exceed the capacity of a normal media.
Adrian79 reviewed v3.1.0.25 on Jan 31, 2006
i have nerovision 4 (nero7ultra).... hmmmm
arossetti reviewed v3.1.0.25 on Jan 31, 2006
This is for Nero 6. I recommend going to Nero's site and selecting the update that DOES NOT include the Yahoo Tool bar. But that's just me ;)

http://ww2.nero.com/nero6/enu/Downloads.html
Adrian79 reviewed v3.1.0.21 on Nov 14, 2005
i have nerovision 4 ,..hmmmm
elopez17 reviewed v3.1.0.21 on Nov 14, 2005
carfull it will install yahoo searh bar
alister reviewed v3.1.0.16 on Aug 4, 2005
Changelog:

Release Date: August 4, 2005
Other Changes/Bugfixes

* Direct capturing to DVD-VR-RAM ended with an error message
Adrian79 reviewed v3.1.0.14 on Jul 8, 2005
I noticed since last update in the about section it's not called nerovision express anymore, it's labeled "nero digital"..hmmm well, anyways GREAT STUFF!!
LRN reviewed v3.1.0.11 on Jun 15, 2005
About Recode:
ND AVC still THE BEST codec around here (and slowest also), and ND ASP still the fastest codec (can't say anything about quality)
But Nero Recode is a bit bugged, while developers (i askd them on doom9 forum) swear, what all will be fixed.

Can't rate other progs in this package, because they're useless for me :)

And yes - it's not freeware!