Other Versions
Publisher's Description
Netscape offers integrations of intuitive digital tools, innovative attractions and infinite media content. It provides more security options, streamlines more standard browsing tasks and arms Internet users with more timesaving solutions to their browsing needs than any other browser.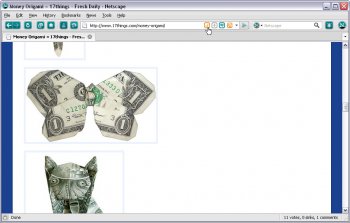 View Full-size
Latest Reviews
tomkelly reviewed v9.0.0.6 on Aug 22, 2013
netscape rocks!
trynow reviewed v9.0.0.6 on Mar 24, 2008
I will begin to use Vista soon. I need Vista versions.
David_2005 reviewed v9.0.0.6 on Mar 13, 2008
its a shame that this browser has been discontinued
v9.0.0.6 is a major, MAJOR improvement over v7 which is the last version i used
they have also improved the theme over the firefox one a great deal
im using this until it becomes too old to use
VampireFrost reviewed v9.0.0.6 on Mar 9, 2008
Its still good I am downloading it so one day I can show my kids. To bad AOL bought it and destroyed it and now has killed it. Oh well you can still get Mozilla the orignal Netscape.
Sven123456789 reviewed v9.0.0.6 on Feb 25, 2008
Now i know its dead. This latest update puts this annoying message every once in awhile mentioning the end of the line and whether to update to firefox or not. That alone is enough for me to give this version its death bed. Luckily the version that was released a month ago i still have and I'm using that one.
Zee333 reviewed v9.0.0.6 on Feb 24, 2008
downloaded and installed this latest update, still love it
i wish they were not killing it off though because Netscape 9 is a major improvement

@Scary Guy you are stupid, rating a product 1 which you didn't even install.
Scary Guy reviewed v9.0.0.6 on Feb 22, 2008
I think the rating actually went up because it died. I saw this today and thought to myself "I thought they killed it off to die a horrible death... in a fire". Ok so updates stop in March? I can wait a week :D
Jammerdelray reviewed v9.0.0.6 on Feb 21, 2008
Great Browser.

As of March 1st Aol is killing Netscape Navigator and will no longer be offering security updates for it Unfortunately.
Zee333 reviewed v9.0.0.5 on Feb 2, 2008
Finally they have done it and came out with an attractive, sleek web browser after so long!
its light on system resorces and easy to use aswell!
it has a nice colour interface i really like this web browser now
Skyfrog reviewed v9.0.0.5 on Dec 28, 2007
I completely agree that this is a great browser now, the first good release in over a decade. I should say "was" though, because today AOL made the announcement that they are discontinuing the browser for good. So even though people have been saying that Netscape Navigator was dead for years, today marks it as being official.

This will still work fine for the time being of course, but as soon as Mozilla releases the next update to Firefox it would be wise to switch in order to get the latest security updates. This is after all just a port of Firefox (which itself was a port of Netscape ironically).

RIP Netscape...