File Details

File Size
2.9 MB
License
Open Source
Operating System
Windows (All)
Date Added
June 20, 2017
Total Downloads
130,717
Publisher
Don Ho
Homepage
Notepad++
Other Versions
Publisher's Description
Notepad++ is a free source editor with the syntax highlighting and syntax folding. It also gives the extra functionality to define a user's own language for the syntax folding and syntax highlighting. You can print your source code in color. It allows a user to edit the different document in the same time, and even to edit the same document synchronizely in 2 different views. It supports full drag and drop.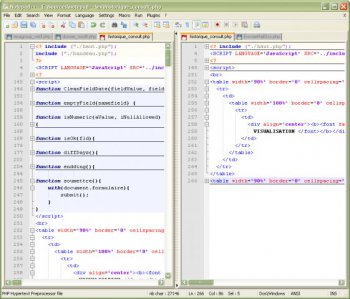 View Full-size
Latest Reviews
hkok reviewed v6.8.9 on Jan 15, 2016
The release 6.8.9 has been removed from the website because it failed the regression test.
maschu666 reviewed v6.7.4 "Je suis Charlie Edition" on Jan 12, 2015
Homepage Hacked.

But it's a very good Editor.
FatBastard reviewed v6.7.2 on Dec 29, 2014
This program is very good but it can't handle extremely large files.
Hall9000 reviewed v6.6.6 "Friday the 13th Edition" on Jun 13, 2014
Gave it it a 5 stars rating just because of the version number and the date it's out as in Friday the 13th. :-P Also did a screen capture!
HeilNizar reviewed v6.6.1 on May 7, 2014
2 stars less for not fixing "stylerTheme" path in "config" file to be portable even though I told the author about it ages ago.
dhry reviewed v6.6.1 on May 6, 2014
Still the best text editor on Windows.
---
Notepad++ v6.6.1 bug fixes:
1. Fix Notepad++ hanging issue while saving a large file if session snapshot feature is on.

Notepad++ v6.6 new features and bug fixes:
1. Add session snapshot and periodic backup feature.
2. Fix RTL/LTR command making mirrored text bug.
3. Make auto-detect character encoding optional.
4. Apply DPI-aware on find & replace dialog tab and User define language dialog tab.
5. Add shell script parser for the function list.
6. Make backslash as an escape character optional in SQL.
mikebratley reviewed v6.5.5 on Mar 11, 2014
good stuff
DeadFly reviewed v6.4.4 on Aug 9, 2013
Version 6.4.5 is already out.
http://notepad-plus-plus.org/download/v6.4.5.html
dhry reviewed v6.4.3 on Jul 29, 2013
Still pretty much my favourite full-featured text editor, although I tend to agree with the previous reviewer that Notepad2 (I prefer xhmikosr's version though - code folding etc - http://xhmikosr.github.io/notepad2-mod/) is a more lightweight and efficient choice for editing things like ini and small txt files.

Notepad++ v6.4.3 new features and bug fixes:

1. Fix a crash issue while using Function list.
2. Enhance delimiter selection (Ctrl + Mouse Double Click) - add GUI settings in Preferences dialog.
3. Add open session in the new instance capacity.
4. Add new command line argument "-openSession" for opening a session file.
5. Add multi-instance option.
6. Fix regression -systemtray command line option not working properly.
7. Fix begin/end selection bug after the text modification between the begin and end position.
8. Add localization command line option -LlangCode where langCode is browser language code.
Antichrist reviewed v6.4.2 on Jul 9, 2013
Notepad++ does more than I need, so I actually prefer the simpler Notepad2 as a Notepad replacement, you can check it out here:

http://www.flos-freeware.ch/notepad2.html