File Details

File Size
19.6 MB
License
Freeware
Operating System
Windows 2000/9x/Server 2003/XP
Date Added
May 3, 2009
Total Downloads
20,980
Publisher
Paul Alan Freshney
Homepage
Periodic Table
Publisher's Description
Periodic Table is an application containing all the elements of the Periodic Table along with images of the elements in their natural states.
The Standard version is designed to be used on desktops set to 1024x768 or better. Contains many small images of most of the elements.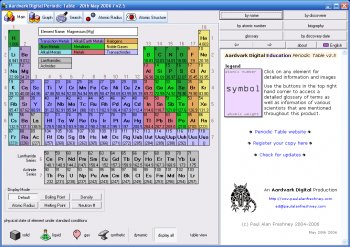 View Full-size
Latest Reviews
Someone reviewed v3.8.1 on Nov 20, 2019
Thank you for such information. I also want to share with you interesting facts and the structure that I found about assignments https://assignment-help.co.uk/university-assignments/ for students at a school or university. This is a very interesting resource.
SuzzyWoozy reviewed v3.8.1 on Jun 3, 2010
excelent!

you may also want to try this one straight from the web www.ptable.com
etmare reviewed v3.5 on Mar 17, 2008
No more, no less - just perfect! And still free??? Very thanx to author - great work!
Someone reviewed v3.4 on Jan 26, 2008
Wonderful, helpful, educational program! It keeps getting better and it's still free! We need more free educational programs like this and like Celestia, which is an open source real-time space simulation, also found here on FileForum: http://fileforum.betanew...l/Celestia/1011341455/1

The author of Periodic Table would like people to email him with questions, suggestions and general feedback. He REALLY wants feedback, so please send him an email, even if it's just to let him know that you use Periodic Table and appreciate that he made it! His email address is on his website if you click on the "contact" link on the top of the page.

PS - I recommend downloading the "Extra" version. It's still free, but it has high quality pictures of the elements instead of small pictures like the "standard" version has.
beer reviewed v3.4 on Jan 22, 2008
Superb, I can't believe it's free! Many thanks to the author.
Ain Soph Aur reviewed v3.2 on Jul 9, 2007
i just love it! its perfect
manogamez reviewed v3.1 on Apr 15, 2007
The most comprehensive and easy to use Periodic Table program I have ever SEEN! I am so depressed that I didn't have this in Highschool and my freshmen year in college.
eviljolly reviewed v3.1 on Apr 15, 2007
Very well made. This should be used in all schools.
Nikkie reviewed v2.8.0 on Oct 31, 2006
If only i knew of this when i was in school ... nice work!!
anomoly reviewed v2.6 on Jul 17, 2006
just extract & run it.