Other Versions
Publisher's Description
RecoveRx software features a user-friendly interface that allows you to search deep within a storage device for traces of erased files that can be rescued; the files include digital photos, documents, music and videos. RecoveRx supports almost all storage device types including memory cards, MP3 music players, USB flash drives, external hard drives and solid state drives. With just a few mouse clicks, you can easily recover virtually any type of digital file. Moreover, RecoveRx supports StoreJet/SD Cards/CompactFlash Cards Formatting and Data Protection functions, providing you the ultimate convenience to manage your memory device.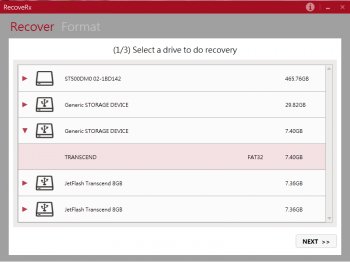 View Full-size
Latest Reviews
Someone reviewed v2.2 on Jun 17, 2019
It is the root of the other topic sentences. The thesis holds every topic sentence in one root like a tree. The root of the tree is the thesis statement and the branches are the topic sentences. A common essay will have at least three topic sentences. To prepare the best topic sentence and thesis statement, you have to make some plans.
Before beginning the paper, you have to plan about what are the things you will discuss in the paper. The writer should have a goal about what he wants to say the readers and what should a reader believe after completing the essay. These are the questions which a writer should answer before writing the thesis. An essay is made up of the writer's opinion. The writers do research about the paper to include all the relevant details which are supporting the writer's opinion. In the whole essay paper, the facts and the topics explained are the voice of the writer. It decides the value and worth of mentioning.
The thesis statement must include the writer's opinion. It should have a clear picture of the essay. The topic sentence is evidence to support the thesis. In each paragraph of the body section, it should explain a topic sentence. Refer genuine writing service to know the clear idea about the thesis and topic sentence writing. These two are part of every type of essays. A clear idea will help you to prepare this easily.
https://essayacademia.com
Someone reviewed v2.2 on Jun 17, 2019
Pros: An essay is built with good topic sentences. These well-structured sentences are the foundation of the essay paper. The writer should spend some time to prepare good sentences.
Cons: These sentences can build you a paper with a solid outline and a good structure. Every type of essays has one main topic that is the thesis statement.
Bottom Line: It is the root of the other topic sentences. The thesis holds every topic sentence in one root like a tree. The root of the tree is the thesis statement and the branches are the topic sentences. A common essay will have at least three topic sentences. To prepare the best topic sentence and thesis statement, you have to make some plans.
Before beginning the paper, you have to plan about what are the things you will discuss in the paper. The writer should have a goal about what he wants to say the readers and what should a reader believe after completing the essay. These are the questions which a writer should answer before writing the thesis. An essay is made up of the writer's opinion. The writers do research about the paper to include all the relevant details which are supporting the writer's opinion. In the whole essay paper, the facts and the topics explained are the voice of the writer. It decides the value and worth of mentioning.
The thesis statement must include the writer's opinion. It should have a clear picture of the essay. The topic sentence is evidence to support the thesis. In each paragraph of the body section, it should explain a topic sentence. Refer genuine writing service to know the clear idea about the thesis and topic sentence writing. These two are part of every type of essays. A clear idea will help you to prepare this easily.
https://essayacademia.com