File Details

File Size
1.6 MB
License
Freeware
Operating System
Windows (All)
Date Added
July 15, 2017
Total Downloads
72,824
Publisher
KC Softwares
Homepage
SUMo
Publisher's Description
SUMo (Software Updates Monitoring) detects applications you are using and tracks updates. If a new version is detected, you'll be notified by SUMo. It relies a social networking as its database is populated by the other users. By using up-to-date software you'll reduce the risk of encountering bugs and will benefit from more features.
This download is for the Lite installer. It does not contain any sponsor.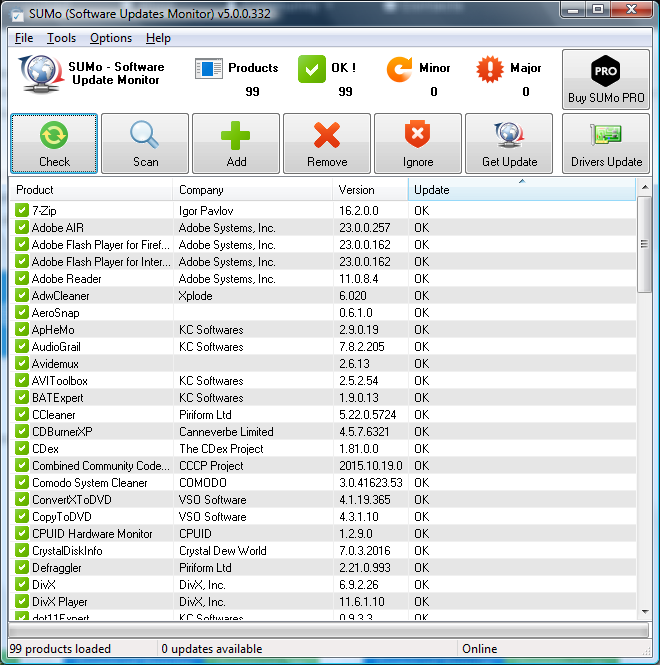 View Full-size
Latest Reviews
Pfurri reviewed v5.1.5.355 on Mar 23, 2017
At the moment the absolute best "free" cleaner program along with CCleaner !

And don't listen to CyberDoc999, he's absolute "JUNK" and only does blablabla !!!
CyberDoc999 reviewed v5.0.3.335 on Oct 10, 2016
Just use PatchMyPC it is way better
Pfurri reviewed v4.5.0.325 on Aug 22, 2016
One of the best freeware (portable (zip) & lite version don't have any junk) !!!
x-ray reviewed v4.3.11.313 on May 2, 2016
as a beta tester, the more that use this program the more there is to report " this program has an update " and ur can right click a single program and show beta, that will make sumo show beta updates for that app
CyberDoc999 reviewed v4.3.2.304 on Feb 1, 2016
pure junk !
henrypeck reviewed v4.3.2.304 on Feb 1, 2016
Still as useless as before.
CyberDoc999 reviewed v4.2.6.299 on Jan 7, 2016
a real POS
gsteele reviewed v4.2.5.298 on Dec 28, 2015
Keeps on sending me results that do not exist. As henrypeck wrote, Secunia PSI is much better.
henrypeck reviewed v4.2.5.298 on Dec 28, 2015
Useless program. You can do the same with a simple search. Get Secunia PSI, it does all of the work automatically.
CyberDoc999 reviewed v4.1.1.280 on Sep 12, 2015
adware