File Details

File Size
14.8 MB
License
Open Source
Operating System
Windows (All)
Date Added
June 1, 2011
Total Downloads
12,102
Publisher
Mike Krüger
Homepage
SharpDevelop
Publisher's Description
SharpDevelop is an editor for C# and VB.NET projects on Microsoft's .NET platform.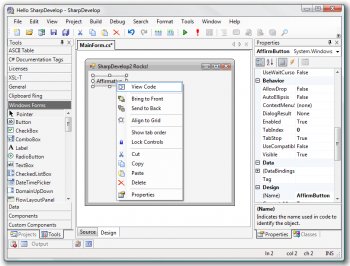 View Full-size
Latest Reviews
Ain Soph Aur reviewed v3.0.0.3037 Beta on Jun 27, 2008
WOW, i love it! :D
im a private user, so its absolutely sufficient.

maybe not so good: only support for .NET framework 2.0 ?!?
spiked reviewed v3.0.0.3037 Beta on Apr 19, 2008
Although the Visual Studio Express Editions are incredible freebies, they suffer from 2 major annoyances. First, although you can download and install multiple products, they remain separate environments. You're either doing C# development OR VB.net development. That's because they use the "isolated mode" of the VS Shell Runtime. In contrast, the full VS is a single environment where you can seemlessly switch and combine products by choosing different project templates and options. Secondly, instead of having the same UI in the free and full editions (perhaps just graying out the functionality not available in free, or removing those menu items and dialogs while keeping the rest organized the same), MS greatly simplified (i.e. "dumbed down") the UI in Express Editions. If you need to switch back and forth (e.g. you use Pro Edition at work but Express at home for personal/hobby or you occasionally need to help a child or friend who is learning with Express) you often find that Express is just different enough to make common tasks frustrating.

Then there's SharpDevelop, a free environment which (as of 3.0) readily integrates languages from C# to F#, OSS tools such as TortoiseSVN (for source control) and WIX (for installers), and support for a wider range of .net versions than any given version of VS. Although SharpDevelop definitely appeals more to personal usage than enterprise, it has not been dumbed down or intentionally limited in any way.

SharpDevelop was the basis for MonoDevelop, so it's even better than VS if you want to ensure compatibility with Mono for running your .net code on Linux or Mac OS X. Even when you're using VS, there are components in SharpDevelop like the Reports which you may find useful as standalone tools.

Drawbacks to SharpDevelop include a lag in supporting .net improvements (SharpDevelop introduced beta-level compatibility with .net 3.5 about 3 months after VS shipped production-level support for .net 3.5), disruptive shifts due to dependence on other OSS projects which stall or become commercial (such as the replacement of NDoc and NCover with Sandcastle and PartCover), and general incompleteness if you need total equivalence to all VS capabilities (such as an integrated web forms designer and extensive database tools).

Furthermore, with the VS 2008 Shell Runtime, MS is now providing liberal redistribution license and flexible API which has enabled projects like the IronPythonStudio IDE to go from idea to release very quickly and for projects like Phalanger (a .net compiler for the PHP language) to instantly gain a free IDE, somewhat obsoleting SharpDevelop's more monolithic approach, at least for Windows. Projects adopting the VS Shell Runtime approach can take advantage of many add-ins written for VS, while SharpDevelop can only use add-ins written specifically for SharpDevelop.
gvanlee reviewed v3.0.0.2970 Beta 1 on Apr 11, 2008
It's good, but it ain't perfect. I used it in between two versions of Visual Studio and found it to be lacking of some (to me) important features. Since the Express editions of VS are free now, the standards are pretty high.
Someone reviewed v2.0.0.1591 on Jul 17, 2006
outstanding!
that was a fast jump from 1.1 beta to 2.0 though!
Don Juan reviewed v1.1.0.2118 RC on Dec 14, 2005
Great piece of development software. This build seems to have corrected some of the little quirks.
gawd21 reviewed v1.1.0.2081 September Beta Refresh on Sep 28, 2005
I like this. It's small and does a great job.
DiGiTaLFX reviewed v1.1.0.1964 Beta Resfresh on May 21, 2005
Fab! Its an IDE with useful stuff, but not bloated with useless tools etc. Love it!
LordNikon reviewed v1.1.0.1913 Beta on Apr 29, 2005
#Develop is very well done IDE for the .NET framework. I can't wait for 1.1Final.
johnk119 reviewed v1.1.0.1913 Beta on Apr 29, 2005
This is a great development set. It's free and is capable of autocompleting the names of commonly used namespaces and methods
Twintop reviewed v1.1.0.1858 Preview on Apr 15, 2005
It works well for new projects, but conversions from Visual Studio 2003 .NET sometimes change alignment of objects in the form in the design window. All in all, #Develop handles everything I need to do with C# and VB.NET. I can't wait for a final release of this revision (this is a preview release, after all. ^^)