File Details

File Size
0.6 MB
License
Freeware
Operating System
Windows 2000/9x/Server 2003/XP
Date Added
February 22, 2005
Total Downloads
8,721
Publisher
Daniel Crkvencic
Homepage
ShirusuPad
Publisher's Description
ShirusuPad is a simple, yet powerful program designed to keep notes of any kind. Perfect for making notes while surfing, programming, or while brainstorming before a new project. It can even be used as a simple library containing your favorite links, addresses, and phone numbers. You can directly click on highlighted URLs to open them with the default webbrowser. And all the information can later be accessed simply by clicking on the icon in the System Tray.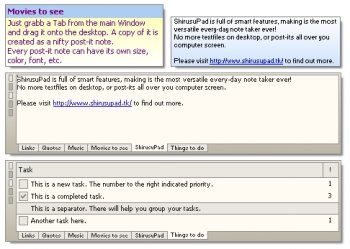 View Full-size
Latest Reviews
ak reviewed v1.1b Beta on Oct 23, 2008
Small footprint !
Some Fonts in settings.ini file
wish.....
Tabs wrap would be nice?
Side Panel & Tabs - Exchange Position?
All floating notes appear on one alt-tab?
Very long notes in floating move up but snap to top?
Noogle reviewed v1.1b Beta on Dec 21, 2005
Nice program - been using it for a few versions. An update is due, though. The ability to save tabs in a project file (instead of the limited export feature) would be helpful and adding notes to checklists will expand it a lot. Finally, some rich formatting options like bold and underline would be cool.

Still, there's nothing better I know of on the market. It's free, light in resources and easy to access. Font sizes can be changed and the checklist/notification features are terrific if you need them.
s.c.s.i. reviewed v1.1b Beta on May 13, 2005
Oddish, of course you can adjust the font size, both in the tabs and in the text box.

Why are people so quick to judge without even giving the programs a proper chance? If you don't like the program, that's fine, but to give it a bad review without even testing it is just bad manners.
Oddish reviewed v1.1b Beta on Apr 21, 2005
I would've given it a 4, but just the fact that you can't even adjust the completely ridiculous 0.00001 pt font size takes it down two notches.
noccy reviewed v1.1b Beta on Feb 23, 2005
Excellent! This program is just great! :)
Someone reviewed v1.1b Beta on Feb 22, 2005
nice, good-looking, functional program! i'm impressed at how fast the author ironed out bugs in this latest release, good stuff!
Cure110 reviewed v1.1 Beta on Feb 21, 2005
Streamlined, convenient interface, quite few bugs for a beta and free. 5 stars.
PC Rat reviewed v1.0 Beta on Jul 22, 2004
Tabbed 'Notepad Replacement' with transparency.

Transparency in Windows, generally, sucks. The tabbed notes concept is very good however.

Controls (like "Exit") in the System Tray -instead of on the app window- is plain inconvenient !

NoteTab Lite...

http://www.notetab.com/

...isn't as futuristic looking, but functionally far superior.

The Computer Rodent
Jakazul reviewed v1.0 Beta on Jun 19, 2004
This is a really good program, with a good concwpt, but there are several things that would make it better.
My biggest complaint is that there's no option (atleast that I can find) to make it stay under the active window.
Transparency is ok, as is the fact that you can click the sys-tray icon and make it vanish, but the option to have it under everything else would be nice.
Other than that it seems good and functional. I'll definitely use it.
Armed and DWI reviewed v1.0 Beta on May 17, 2004
Like no other program I have ever used! So simple yet so useful. This is for people who like to economize their desktop space and make the most out of every pixel. I use it at work and at home. One bad thing - with this new 1.0 version, it forces itself to be wider than it used to. I want it narrower like the .99 version!