File Details

File Size
1.3 MB
License
Shareware, $29.95
Operating System
Windows 7/8/10/Vista/XP
Date Added
July 20, 2016
Total Downloads
66,907
Publisher
Uniblue Systems Ltd.
Homepage
SpeedUpMyPC 2015
Publisher's Description
SpeedUpMyPC lets you monitor and control all your PC resources with easy, one click instructions. System settings, internet usage, disk clutter, RAM and CPU are all automatically scanned, cleaned and optimized for peak performance. You can also selectively disable or remove unnecessary background and auto-start processes to cut valuable seconds off your startup time.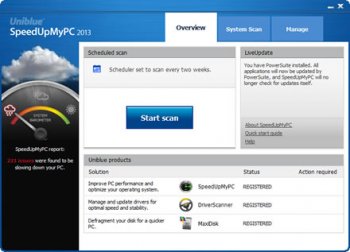 View Full-size
Latest Reviews
CyberDoc999 reviewed v6.0.6.1 on Feb 4, 2015
avoid this scam
some guy reviewed v6.0.6.1 on Jan 29, 2015
crapware usually attached to other free programs
Zoroaster reviewed v6.0.5.0 on Jan 5, 2015
When I think of all the excellent, talented, honest sites that have to close for financial reasons and at the same time junkyards that remain over and over the years...
Mama mia ... Score here is minus1, that is : avoid
CyberDoc999 reviewed v6.0.4.0 on Aug 8, 2014
just bad and a rip off
gsteele reviewed v5.3.11.0 on Sep 26, 2013
Pure garbage
Music4Ever reviewed v5.3.8.8 on Jul 10, 2013
I'm not surprised that ESET blocked this program from downloading:

>Potentially unwanted content - This page is identified as potentially unwanted content.
This web page is on the list of websites with dubious reputation or websites with potentially unwanted content<

And I agree with ESET on this one ~
THUE064 reviewed v5.3.4.0 on Sep 18, 2012
NoooB or not, don't waste your time or money! Better spent elsewhere!
Music4Ever reviewed v5.3.3.0 on Aug 14, 2012
I had a guy working on my house last week who had lost his sound after using this software, I advised him to restore all backups which sorted the issue & then he removed the program. These all in one speed up programs with promise much but actually deliver very little very little & can (will) mess up your PC, a registry backup is of no help with a none booting PC

You can get the same speed-up which is negligible by running CCleaner & a free defragger, if you have a SS drive forget the defragger. Use a good free AV & buy for a one off payment Malwarebytes - Sorted -

You are wasting your money on programs such as this, if you really, really feel a compulsive need to clean the registry use the free Wise registry cleaner which is the safest I have seen & is ad & spyware free.

I have yet to see a decent program produced by Uniblue.
CyberDoc999 reviewed v5.3.3.0 on Aug 11, 2012
scam ware
gatorfan95 reviewed v5.3.0.14 on Jul 26, 2012
You can do the same thing with two or three FREE pieces of software. I am not sure why beta news is touting this thing, I suppose it's a paid advertisement, but it's not worth the 30,00 US dollars to put up with it's constant nagware for other Uniblue products. I know, I paid for this about 2 years ago, I regretted it almost from the start and when I cancelled my "renewal" well before my subscription was up, it took two phone calls (one to Uniblue and one to my bank to cancel the unauthorized transaction Uniblue hit my check cashing card with) to get my money back. In addition there is no uninstaller, getting rid of the crap it puts all over your hard drive is a long term pain in the butt. Stay away from this trashware and Uniblue.