File Details

File Size
241.2 MB
License
Open Source
Operating System
Windows (All)
Date Added
January 2, 2019
Total Downloads
15,806
Publisher
Fabien Chéreau
Homepage
Stellarium
Other Versions
Publisher's Description
Stellarium renders 3D photo-realistic skies in real time with OpenGL. It displays stars, constellations, planets, nebulas and others things like ground, landscape, atmosphere, etc.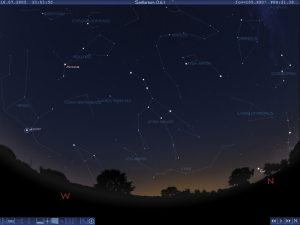 View Full-size
Latest Reviews
Sven123456789 reviewed v0.15.2 on Mar 24, 2017
Best free Astronomy program I know. Comes in very handy when getting the old telescope out for some night viewing.
humbleuser reviewed v0.15.0 on Aug 4, 2016
Wow. It has always been amazing.
Sven123456789 reviewed v0.13.2 on Jan 21, 2015
I'm sticking with version 12. Had allot of problems with the newer versions. Probably something to do with my video card.
Sven123456789 reviewed v0.12.1 on Apr 22, 2013
Great Software. Just as an fyi. This download is for the 32 bit version. If you go to the developers homepage, a 64 bit version is also avail...
uberfly reviewed v0.12.0 on Feb 2, 2013
Wow. This is really amazing, especially for free. Easy to use and looks great.
marty reviewed v0.12.0 on Feb 1, 2013
Works with Windows Server 2012 - should work withk Windows I think
henrypeck reviewed v0.12.0 on Jan 31, 2013
Great program but does not work in Windows 8.
johnk119 reviewed v0.11.3 on May 19, 2012
Off Topic... a recent study suggested there could be as many as 300 sextillion stars
Music4Ever reviewed v0.11.3 RC1 on May 8, 2012
Amazing program, I can't fault it ~

One gazillion Stars ~
Sven123456789 reviewed v0.11.2 on Mar 12, 2012
Great program. My previous astronomy software isn't compatible with Windows 7, not to mention this is actually much better. Lots of details for the night sky watcher.