File Details

File Size
0.2 MB
License
Freeware
Operating System
Windows (All)
Date Added
December 4, 2016
Total Downloads
7,741
Publisher
Juraj Simlovic
Homepage
TED Notepad
Other Versions
Publisher's Description
TED Notepad is a free light-weight notepad alternative.
It offers 352 text-processing functions, innovative features and timesaving tools. All of them on hotkeys; all designed for quick and advanced editing. It is portable and loads instantly with no installation required.
Get ready for a swiss-army-knife notepad alternative for free: small and simple, yet full of ready features, combinations, enhancements and tools. You'll never learn them all. Don't type, ted-it!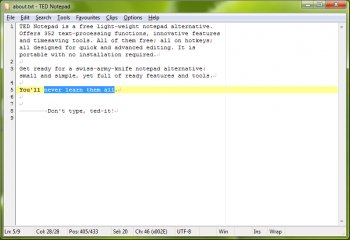 View Full-size
Latest Reviews
kewwinn reviewed v6.0.1 Beta on Nov 30, 2011
So what's new?

Regular Expressions. Search Bar. Line numbers. Multi-level Undo and Redo. Font/background color. Auto-recognition of UTF-8. Copy/Paste by mouse. Triple/Quad-click selecting. Tools like Shuffle Lines, Fun Case, Extract Words. Full support for binary files. Faster even on large files. Very long lines. And more. Overwrite mode. And more And more, and more..

Impressive update, don't you think?
dhry reviewed v5.4.2 on Jul 18, 2009
Dealbreaker: it doesn't have a line-number margin. Just get Notepad2 instead - starts just as fast, has code-folding, and is also free. http://code.kliu.org/misc/notepad2/
elioth.37 reviewed v5.4.2 on Jun 25, 2009
Thnks for this nifty little utility.. The thing I like most about this editor is how darn fast it starts. Faster than notepad. I would recommend everyone to try this editor themselves. I was nicely supprised myself when I started to browse thruough its menus.
shamas reviewed v5.3.1 Beta on Dec 19, 2008
Great alternative to Notepad and other text editors... I still haven't found one that will let you select text and have a right-click menu option to add a suffix and/or prefix to said selected text. Also the option to save said suffix/prefix selections. =)

If anyone can tell me of an app that does this, please let me know. nshamas@gmail.com
McAleck reviewed v5.3.1 Beta on Jun 26, 2008
well, so much for that rumor. :(
kewwinn reviewed v5.3.1 Beta on Aug 14, 2007
Rumors spread slowly, that jsimlo is already writting that brand new edit control for his TED Notepad. And as he said a long time ago, when he finally writes one, it will be worth it:

Syntaxt highlighting, text marking, text folding, brace matching, block selection, block editing and moving, bookmarks, split window, unlimited undo/redo, drag&drop editing, ... Ahh, just can't wait for it already.. :))))
McAleck reviewed v5.0.3 on Apr 13, 2007
no drag & drop, undo only once, plenty of room for improvement. three
kewwinn reviewed v5.0.2 on Nov 15, 2006
In the past two years I have suggested 5 new features, all of them were implemnted within a few months top for the group of testers and they are all available for public now.. This editor is trully the most growing one in its category. Small but powerful.

Get ready for a simple text editor, yet full of new features and text tools - you will never learn them all. Don't type, ted it!
kewwinn reviewed v4.5.3 on Jun 15, 2006
Ah, here it is, an ultimate notepad replacement.. :)

I am a tester of this TED Notepad and gotta say, the prepared version 5 will be even more better: Simply copying words from lines above instead of endless copy/pasting, secondary search and find selected, portable configs in an .ini file, .. Quite a revolutionary things in a text editor. See http://jsimlo.sk/notepad/next.php

Oh, but, for now, version 4.5.3 seems to have an improved installer, that may solve all the problems with installation described by twosheds before.
I think the installer is not a no.1 priority to this project. Personally, I prefer a ZIP package with files only (the exe file and the extensive manual), downloadable from the homapage anyway.
_jaz_ reviewed v4.5.2 on Mar 29, 2006
Another Vote for this program. It is not meant to be a "do it all" editor (PSPad, PN (programmer's notepad), UltraEdit...).

It is a notepad replacement: a fast, simple enough, and filled with the utilities necessary to manipulate *text*.

I have both, PSPad and this one. Tex notepad replaced "editor2" (from xplorer2). I use PSPad mostly for its HEX editor, and Tex notepad to replace text, change UNIX/DOS format, or simply view a txt.

I don't understand the people rating it so low either.