File Details

File Size
1.0 MB
License
Shareware
Operating System
Windows 2000/9x/Server 2003/XP
Date Added
September 20, 2004
Total Downloads
40,461
Publisher
TVTool
Homepage
TVTool
Publisher's Description
TVTool was developed to replace the poor support video card manufacturers had for TV_OUT. TVTool works with most NVIDIA based cards such as TNT, TNT2, TNT2 Ultra, GeForce cards with BT86x (e.g. Viper 550, Erazor 3, Xentor 32, 3D Prophet, etc.). The main problem is the black borders around the picture on the TV screen. These can be very annoying for most applications like DVD-playback or decoding. It is a completely software based solution to this problem. It has many features, such as dualview, which makes simultaneous output to the TV and monitor possible.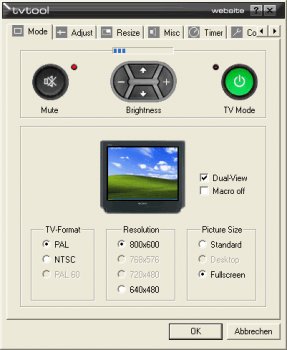 View Full-size
Latest Reviews
Nekobibu reviewed v9.6 on Mar 11, 2004
I'm rating this 9.6 release, not the proggie itself...
So, as every release of TvTool since after 6.5, it doesn't work well at all : TV output is messy and ugly and half the options are totally useless anyway...
So back to 6.5 again! ;)
conanjc reviewed v9.5.5.6 on Jan 30, 2004
What about Chrontel 7009 ? When do you support it ???
4nT1 reviewed v9.5.5.5 on Jan 8, 2004
not bad
shame it doesnt do tv in as well seeing as i have vivo on my gf4 and dont really have anything i can use it with

i run to run my playstation 2 on my monitor through the vivo setup but i am having trouble finding a program to do it on
Nightvision reviewed v9.5.5.5 on Jan 8, 2004
This program is just a dream :-)
ive been using it since version 6.8 and got a regged version since... excellent support and its worth the 12euros imho.
keep up the good work!
Barry
Darken reviewed v9.0 on Nov 1, 2003
Nice utility. I like it :)
MonkY reviewed v9.0 on Nov 1, 2003
Aaaaaaaaaaaargh. It completelly ruined my display drivers. I use GF4Ti4600 with 45.33 Detonator Official WHQL (and Tvtool 9.0 is supposed to work with latest drivers) and just one button to go dual view and couldn't return from 640x480x8 bits. This is impossible. I still use old 6.x version (no dual view, but also, no problems). The bugs must be solved firs, then add features (i believe actually tvtool simply can't detect refresh settings done by nvrefresh tool or Rivatuner). The ideea is good, the compatibility is bad !
toxicthunder reviewed v7.0.1 Beta on Apr 11, 2003
ohhh crap, it has a 15 minute trial period (it should tell you that when you install it or when you start it, maybe i missed it)... keep that in mind if you want to try it out. and ordering it by credit card takes up to 24 hours... so i'm waiting patiently.
sarahbee reviewed v7.0.1 Beta on Apr 11, 2003
I signed up for this place just so I can review this piece of software. I struggled to find a decent webcam server, and stumbled across this one on the darkwet.net website. Downloaded the trial version, and it was one of the easiest programs I've ever used, and integrated beautifully into my page.
The reason why I wanted to review it, however, is because this is one of the first times I have ever actually felt bad not giving the programmer the money he deserves for providing such a bad @$$ program for such little money. I'm as bad as the rest for downloading warez and mp3s, yada yada, and sometimes I do feel guilty, but damn if this man doesn't deserve his hard earned paycheque. I have NO problem paying for the pro version lease, and neither should you. (unless you think you can find something better for such an amazing deal ;)
Wet-wired reviewed v7.0 Beta on Apr 2, 2003
Good program, not necessary for lots of people if they upgrade their drivers (especially nvidia users). You MAY (And should) edit your video card's .ini file to include 720x480 resolution and reinstall if necessary, then in tv's adapter settings for your card, set res to 720x480. This will remove black boarders on edges just like TV Should be! No need to use this program, but still a great program.
m0nde reviewed v6.8 on Oct 2, 2002
TVTool does what it claims to do, mirror your video signal to your TV. But, the new Detonator drivers do this properly and do it more elegantly, not making you go down to 60 Hz and 800x600 on your monitor.
This program was a must have before the new 40.x Detonator drivers came out. Now, WITHOUT this program, Detonator takes care of TV Out properly.
Unfortunately, that makes what this program does moot.