File Details

File Size
31.8 MB
License
Shareware, $26.95
Operating System
Windows (All)
Date Added
March 6, 2017
Total Downloads
112,026
Publisher
Ritlabs
Homepage
The Bat!
Other Versions
Publisher's Description
The Bat! is a secure desktop email client for Windows, built to protect your correspondence against third-parties.
The Bat! protects your information through multiple encryption streams, with the option to keep all information encrypted on you disk, and to protect emails during communication using end-to-end encryption (E2EE). The Bat! can work without global email providers that keep your messages in the cloud, where they can be stolen. The Bat! keeps your emails on your computer to make them private. The Bat! blocks malicious code and tracking pixels that spread via email. This is a way to protect from email hacking.
The Bat! email program is able to process and store an unlimited number of messages and has no restriction on the number of email accounts accessible via IMAP, POP, MAPI protocols. The Bat! is a perfect multiple email account manager - allows you to quickly access all your email accounts in one place. The Bat! is a safe, robust and reliable mail application. It handles very large message bases quickly and with small memory footprint.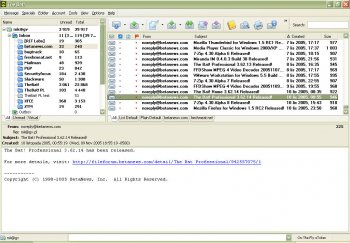 View Full-size
Latest Reviews
partypop reviewed v7.4.10 on Feb 22, 2017
For years I have been using Outlook Express on Windows XP. Newer versions of Windows have Windows Live Mail (junk). Thunderbird sucks, so I decided to try something different. All I have to say is wow, I never thought I'd actually pay for an email program. But very glad I did. This product is AMAZING. The functionality of this software is amazing, Scheduled emails (sent anytime I want) a feature I wanted so long, I have it now. On the fly encryption for the email? Wow. This prodcut is not 5 stars, its 10 stars.
stephenstud reviewed v5.2 on Aug 27, 2012
Great piece of software! LOVE IT:)
TuxmanXP reviewed v5.2 on Aug 27, 2012
It is hard to find a better e-mail client out there.

Images in e-mails? LOL. Whatever anyone would need that for. HTML mails?
No, The Bat! is not made for newbies. Luckily.
mentallo666 reviewed v5.0.30 on Jan 3, 2012
Does it display images in emails yet?
Newrone reviewed v5.0.8 on May 23, 2011
I'm astonished that some people actually pay for this! It looks like the e-mail equivalent of the mechanical typewriter.
krgood reviewed v5.0.0.151 Beta on Apr 6, 2011
The Bat has a lot of options, choices and handles HTML (the primary method desired) in a weird way. It is justified by the authors as security but IMHO is awkward. This should be an option selection by the user, not forced by the developer. Not all of us visit sites where HTML is full of threats, I have Virus software that protects my email and lets me make a decision on what I want to receive, If it were not for the awkward use of HTML, this might be a good choice, I have checked each release hoping that HTML handling will join the realm of practicality but it never does and guess it never will, I am sure there are those who will disagree with me and is their right to do so but this program is just not for the user who is looking for an easy to use mailer, If you like having to "fiddle" with each email just to read it, then this program is for you! There are many good email clients out there that do as good or better than this and most are free, Try it and you be the judge,
shroom reviewed v5.0.0.151 Beta on Mar 29, 2011
HUGE piece of GOODNESS
ckliebert reviewed v5.0.0.136 Beta on Feb 4, 2011
HUGE piece of CRAP, chap.
FixXxeR reviewed v5.0.0.136 Beta on Feb 3, 2011
I've used every version of The Bat! since V3, or at least attempted to for a week with each version, but I cannot stick with it. It is just far too awkward to use. The GUI feels very tacky and the filters leave a lot to be desired. The support of the application is also another area which is lacking, horribly. It does work, so I will give it a 2, but I would recommend you look elsewhere before using TB!
CapZap reviewed v5.0.0.126 Beta on Jan 5, 2011
Why review a great app and just criticize the price? You don't want to pay for it, stay away. I pay for it because it's much more secure than the freebies. More features, better software. Troll elsewhere.