File Details

File Size
201.4 MB
License
Open Source
Operating System
Windows (All)
Date Added
April 7, 2019
Total Downloads
100,585
Publisher
Tor Lillqvist
Homepage
The GIMP
Publisher's Description
The GIMP is the GNU Image Manipulation Program. It is a freely distributed piece of software suitable for such tasks as photo retouching, image composition and image authoring.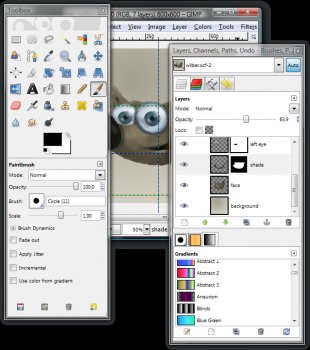 View Full-size
Latest Reviews
kstev99 reviewed v2.10.8 on Nov 14, 2018
Still an EXCELLENT photo editor. As a former graphics designer, GIMP has most everything that Photoshop has and you don't have to spend a fortune.

Beware !!! There are some suggesting that you use Krita instead, even calling those who stand by GIMP, Morons. Comparing Krita and GIMP is like comparing apples to oranges, and while Krita is an excellent drawing program, it lacks the functions needed for advanced image editing. I stand with the GIMP. 5 Stars !!!
Aegis69 reviewed v2.10.4 on Jul 9, 2018
complete useless garbage, been that way for decades, use Krita
kstev99 reviewed v2.10.0 RC1 on Mar 29, 2018
Keeps getting better with each version.
Aegis69 reviewed v2.9.8 Beta on Dec 27, 2017
lol morons saying kritas interface is unconventional when it looks EXACTLY like photoshop, meanwhile gimp looks like it was make in 1972. And yes Krita does painting very well, but that does NOT mean it doesn't ALSO do photo manipulation, it does, and it does it BETTER than gimp ever will.
kstev99 reviewed v2.8.22 on May 13, 2017
As a former graphics designer, I see no need to fork out $$$ for Photoshop, and make Adobe lots of money. GIMP has practically all of the features of Photoshop and it's developers don't just rush releases out the door. The magnetic scissors tool is a masterpiece.

Great Program!! and best of all it's FREE !! I've tried Krita, and quite frankly, it's unconventional interface just doesn't cut it.
Ryusennin reviewed v2.8.22 on May 13, 2017
Krita is a digital painting application, Gimp is a generic image editor. Both programs have entirely different uses. I'd never use Krita to do any sort of basic picture manipulation.
lylejk reviewed v2.8.22 on May 11, 2017
Will admit that version 20's working fine for me (so haven't installed 22 yet) but still, GIMP is still my editor of choice. When you ad G'MIC to it, it makes it superior in many ways to Photoshop. Cannot wait until GIMP goes to 2.10x; the beta version already supports high bit depth which is the main complaint with GIMP in it's present form. Regardless, I seldom (if ever) need more than 8 bits per channel when I do my retouch play. :)
Aegis69 reviewed v2.8.22 on May 11, 2017
I hate to say it, but GIMP is done. Krita came along and did everything the community had been asking GIMP to do for decades. Ive switch to Krita, it even replaced photoshop for me. Goodbye GIMP, you missed the boat and its over.
some guy reviewed v2.8.16 Update 4 on Jun 8, 2016
fantastic both windows and Linux
Zombulla reviewed v2.8.1.4 Revision 2 on Dec 21, 2014
Has become slow and utter garbage.