File Details

File Size
25.4 MB
License
Shareware, $29.95
Operating System
Windows (All)
Date Added
September 29, 2017
Total Downloads
23,270
Publisher
Gavrila Martau
Homepage
Total Uninstall
Publisher's Description
Total Uninstall is a complete uninstaller which include two working modes. Installed Programs module analyze existing installations and create a log with installation changes. It is able to uninstall programs even without the help of supplied Add Remove program. Monitored Programs module helps to monitor any changes made to your system during the installation of a new program. It allows you to perform a complete uninstall without having to rely on the supplied Add Remove programs which can leave files or changes behind.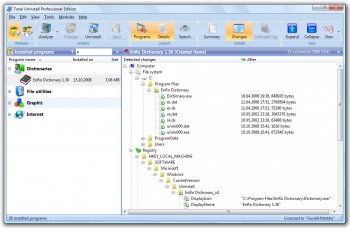 View Full-size
Latest Reviews
CyberDoc999 reviewed v6.19.1 on May 9, 2017
Still crap! slow and buggy
Morningdove reviewed v6.19.1 on May 8, 2017
IMO Total Uninstall is and always has been the best uninstaller available. In addition to removing more left overs than any uninstaller that has been tried, it allows you to see everything that has been installed on your computer by any program without having to uninstall the program. Revo Uninstaller Pro, the second best, only shows the left overs after the program has been uninstalled and misses a few items caught by Total Uninstall.

For more information, read the informative reviews immediately above and below.
CyberDoc999 reviewed v6.9.1 on Nov 20, 2014
pure junk
Blaxima reviewed v6.9.1 on Nov 17, 2014
Nowhere near as bad as some would have you believe. It does do a good job of removing the junk leftover after the default uninstaller is finished.

I'll say this for the previously mentioned iobit, it installs itself where it wants, creates shortcuts where it wants and it tries to sneak in its system optimizer software. I don't trust such sneaky behaviour.

Granted I do use an older version and can't comment on the latest but the comments here seem to have an agenda more than actually being helpful. Sometimes in life, you get what you pay for
geomelen reviewed v6.9.0 on Nov 12, 2014
This has to be a joke..... I've used bad software before but this piece of crap takes the number 1 spot. What was the software programmer thinking about??? This does nothing well at all. I have removed it, good riddance .... And who can really buy this ( I did and $$$ lost) ....... I would suggest you use IObit Uninstaller, Revo, GEEK Uninstaller or Wise Uninstaller. All are excellent and free. I personally use IObit and GEEK which I find to do the best complete removal of leftover files.
PaulWilliams reviewed v6.6.0 on Aug 5, 2014
Anyone that buys this should get their head examined. Slow, ineffective, uninstalls itself and causes critical system errors. I'm for removing traces from your computer, but this isn't the product to do it. Just download something else for free, anything. CCleaner, Comodo Programs Manager or Revo Uninstaller Free.
smaragdus reviewed v6.4.1 on Apr 2, 2014
Don't buy this crap developed by a rogue- if you install it on a laptop and go to another country it will un-register itself.
anonymousxxx reviewed v6.2.1 on Oct 15, 2012
a well crafted piece of s***. dont buy this software.
Jakhals reviewed v6.2.1 on Aug 29, 2012
If the author still has to "include new trace locations", then this program has never being able to properly uninstall something, and it never will.
Betanoob reviewed v6.2.1 on Aug 29, 2012
How dumb do you have to be to pay for an uninstaller?