File Details

File Size
37.9 MB
License
Open Source
Operating System
Windows (All)
Date Added
August 21, 2019
Total Downloads
514,138
Publisher
VideoLAN
Homepage
VLC
Other Versions
Publisher's Description
VLC is a free and open source cross-platform multimedia player and framework that plays most multimedia files as well as DVD, Audio CD, VCD, and various streaming protocols.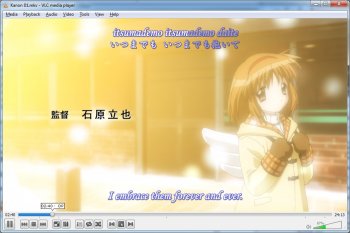 View Full-size
Latest Reviews
Someone reviewed v3.0.8 on Aug 28, 2019
I am Very thank full the owner of this blog. Becouse of this blog is very imformative for me.. And I ask u some thiing You make more this type blog where we can get more knowledge. and any one tell me how can I find this type blog. https://www.birminghamcarpetcare.com
whirly reviewed v3.0.6 on Jan 12, 2019
This was not an upgrade. VLC is a dynamite program but this upgrade doesn't pass muster.
Aegis69 reviewed v3.0.2 on Apr 25, 2018
Still very, VERY slow to start. I even have it installed to an SSD, still takes 5 to 8 seconds to load. Insane
VictorAnderson reviewed v3.0.0 on Feb 12, 2018
I gotta give it 5 stars - and it's hard to get 5 stars from me :)
some guy reviewed v3.0.0 on Feb 12, 2018
fantastic plays what others can't great for playing media through your local network, google play-store has a remote for it as well
inkowyouknow reviewed v2.2.4 on Jun 12, 2016
The only player I use, flawless playback works like a charm
ikzelf reviewed v2.2.4 on Jun 10, 2016
First of all : I lake it
But .....
When I start a video, the interface is partly off screen all the time.
VLC positions its window in the lower right corner of my monitor - very annoying - I can't use it this way.
Aegis69 reviewed v2.2.4 on Jun 9, 2016
My only complaint is that is is very very slow to start. Even if I just ran it, it still starts slow. Shouldnt it still be in memory?
Picasso reviewed v2.2.4 on Jun 8, 2016
One of the most useful pieces of software ever written!
some guy reviewed v2.2.4 on Jun 8, 2016
best player hands down ! great multi cross platform Windows /Linux/Android