File Details

File Size
28.7 MB
License
Open Source
Operating System
Windows (All)
Date Added
December 1, 2017
Total Downloads
509,046
Publisher
VideoLAN
Homepage
VLC
Other Versions
Publisher's Description
VLC is a free and open source cross-platform multimedia player and framework that plays most multimedia files as well as DVD, Audio CD, VCD, and various streaming protocols.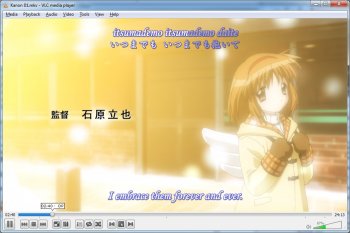 View Full-size
Latest Reviews
inkowyouknow reviewed v2.2.4 on Jun 12, 2016
The only player I use, flawless playback works like a charm
ikzelf reviewed v2.2.4 on Jun 10, 2016
First of all : I lake it
But .....
When I start a video, the interface is partly off screen all the time.
VLC positions its window in the lower right corner of my monitor - very annoying - I can't use it this way.
Aegis69 reviewed v2.2.4 on Jun 9, 2016
My only complaint is that is is very very slow to start. Even if I just ran it, it still starts slow. Shouldnt it still be in memory?
Picasso reviewed v2.2.4 on Jun 8, 2016
One of the most useful pieces of software ever written!
some guy reviewed v2.2.4 on Jun 8, 2016
best player hands down ! great multi cross platform Windows /Linux/Android
Zootopia3001 reviewed v2.2.3 on May 3, 2016
Good media player, with internal codecs. It should work for most.
For those saying it has trouble with some video formats, you might try disabling 'Accelerated video output (Overlay)' in video preferences.

Personally I prefer Media Player Classic - Home Cinema(along with standalone filters offered at Sourceforge) as default for most video formats, a few kept with Windows Media Player and what's left going to VLC.
Aegis69 reviewed v2.2.1 Beta on Apr 13, 2015
Takes forever to load on Windows now, doesn't play H265 worth a crap, the android version does not allow seek at all. Strange that everyone loves this player so much.
FatBastard reviewed v2.2.1 Beta on Apr 13, 2015
VLC is an amazing media player but it does NOT work with DXVA and therefore the cpu usage can be quite high sometimes.

A working DXVA implementation is much needed!
Yakumo reviewed v2.2.0 RC2 on Nov 24, 2014
VLC is fantastic, and really worth using since they updated the UI.
I do prefer MPC-HC's UI and that it's not using Qt5, but VLC's format support is fantastic as is its streaming support.

It looks to me from the options menu pictured in reviews that potplayer mentioned in a review below must be an unacknowledged fork of Media Player Classic / MPC-HC. I'd rather use the originals or the MPC-BE fork.

Not acknowledging their routes or giving source access would be breaking MPC's license (GPL v3) , and I'm surprised more people haven't been talking about this.
Blaxima reviewed v2.2.0 RC2 on Nov 24, 2014
This player has it's fan base that swear by it but in truth, it is moderately average at everything it does. There are better such as PotPlayer.

@Yakumo,
It's actually a continuation of the once excellent KMPlayer as it is created by the same guy.

Interestingly enough, VLC fanboys whined about that exact same argument years ago.

Anyways, here's the facts
http://forums.kmplayer.c...ms/showthread.php?t=141