File Details

File Size
5.3 MB
License
Shareware, $49.95
Operating System
Windows 7/2000/Server 2003/Vista/XP
Date Added
May 14, 2019
Total Downloads
12,233
Publisher
Visualware Inc.
Homepage
VisualRoute
Other Versions
Publisher's Description
VisualRoute will get detailed information about IP addresses and web site owners to trace hackers and spammers, identify actual IP address locations and report Internet abusers. Use VisualRoute to Trace hackers, Report spammers, Validate websites, Identify the 'owner' of an IP address, and Identify IP address locations on a world map.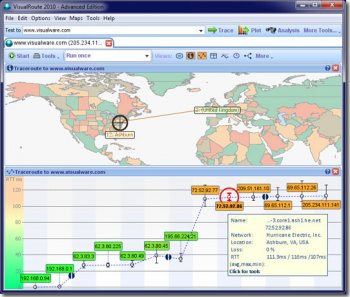 View Full-size
Latest Reviews
cmotdibbler reviewed v13.1e on Aug 13, 2009
Several years ago I used a crack on this app and the developer (rightfully so) contacted my the IT dept at my university which was rather embarrassing. I was a windows n00b and didn't even know how to use the program. This doesn't make what I did right, just ironically stupid.
This used to be a nice application, a looong time ago. Then they turned it into a piece of crap. I hate when that happens.
DIRKES reviewed v10.0b on Oct 26, 2005
Now I want thest this "newer" version. But stones are thrown also here into the way.
First I must contact to the internet for receive a trial-keycode.
I did it, but it means "your trialperiod is over" ! Absolute insanity! I did not install this version ever. Now I hope, which I receive at least an answer from the author.
..God luck...
Bachalor reviewed v9.2a on Feb 21, 2005
New releases you cannot test again. The author show no reacts, if you write them.
DIRKES reviewed v9.2a on Feb 21, 2005
I test it, too. But only 14-days for a test is definitiv to short. And you MUST contact visualware for receive a temporarly reg.-key.
Is this a customer friendly shareware idea ??
joo reviewed v9.0a Build 2555 on Dec 3, 2004
Contains malware, if you do not register it legally.
Bachalor reviewed v9.0a Build 2555 on Dec 3, 2004
At this version jus MUST contact the autor for receive a temporarly 14-day key. Then I miss a release info, whats new here in this version.
scodan reviewed v7.3b on Oct 4, 2003
Very handy... I run a web server, and I use VisualRoute to check the origin of certain IP addresses I see in my log. It's very slow loading, expensive for what it does, and you can achieve the same effect (without the cute little map) with free tools, but it does work well.
Perezoso reviewed v7.1c Build 1913 on Mar 17, 2003
Nice proggy but it has some serious issues. The integrated WHOIS function often confuses between Argentina (where I am) and Uruguay (where VR says I am). Forgive my English. :D
Dirk van Hoofen reviewed v7.0b Build 1786 on Oct 11, 2002
It works noit correct under WIN98