File Details

File Size
149.9 MB
License
Freeware
Operating System
Windows 7/8/10/Vista
Date Added
October 30, 2019
Total Downloads
40,154
Publisher
Kai 'Oswald' Seidler
Homepage
XAMPP
Other Versions
Publisher's Description
XAMPP is an easy-to-install Apache distribution containing MySQL, PHP and Perl. It is really very easy to install and to use: just download, extract and start.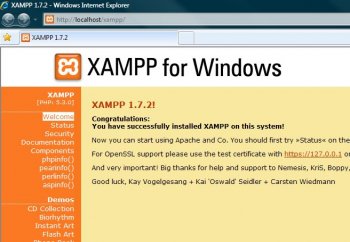 View Full-size
Latest Reviews
Karol Mily reviewed v5.6.11 on Jul 24, 2015
Too complex package for me.

Cute alternative:
Apache VertigoServ - http://vertrigo.sourceforge.net/
cyberguy reviewed v1.8.3.5 on Aug 24, 2014
Complete and very up to date.

@pjafrombbay:

Down-rating a product because it is not 'lite'?
Real class act mate. /sarcasm
yarin1115 reviewed v1.7.5 Beta 7 on Jan 30, 2012
sdsdssssssssss
nvic reviewed v1.7.5 Beta 3 on Aug 6, 2011
Haven't tried 1.7.5's beta, but 1.7.4 works fine for me on XP and Server 2003.

I currently use it to run a local development server, and it works great. With some time and manual configuration, you can even add extras like PostgreSQL to it quite easily.
pjafrombbay reviewed v1.7.5 Beta 1 on Mar 28, 2011
What ever happened to the "Lite" version. XAMPP was always the best WAMP stack but is too big for my needs. UwAmp (http://www.uwamp.com/) seems a better option.

Regards,
Peter
shroom reviewed v1.7.4 on Feb 4, 2011
v1.7.4 has no real Windows 7 support at the moment.
And| reviewed v1.7.4 Beta 2 on Aug 30, 2010
@Jkc

Yes. And with 99.9% chance yours.

This is actually a great application, or pack, for those not wanting to test it out on a webhotel, or finding this easier. I have always prefered this over WAMP and LampStacks.
Jkc reviewed v1.7.3 on Feb 17, 2010
Will this work for Vista?
GadgetPig reviewed v1.7.3 on Jan 2, 2010
Good program useful to test websites locally to save time.

Other alternatives are wampserver of course:

http://www.wampserver.com/en/

and my current favorite UWAMP (similar to wampserver)

UWAMP

http://www.uwamp.com/
Antichrist reviewed v1.6.8 Beta 2 on Sep 15, 2008
This makes installation of the included programs very simple. I would recommend at least trying to install them separately first if you are new to them, rather than always relying on a package like this, so you can at least understand a bit of what it's doing. I have been won over by the WampServer package and use that instead now; I would recommend trying that, but when I did use XAMPP I didn't have any complaints.