File Details

File Size
4.4 MB
License
Freeware
Operating System
Windows (All)
Date Added
January 16, 2018
Total Downloads
292,898
Publisher
Peter Pawlowski
Homepage
foobar2000
Publisher's Description
foobar2000 is an advanced audio player for the Windows platform. Some of the basic features include full unicode support, ReplayGain support and native support for several popular audio formats.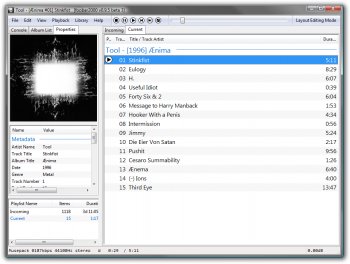 View Full-size
Latest Reviews
krgood reviewed v1.3.13 Beta 1 on Sep 20, 2016
I get the same notification from AVG...I am not going to download any more versions until it can be determined that it is free of malware/viruses/trojans etc.
vailr reviewed v1.3.12 on Sep 17, 2016
This file seems to have been infected with a trojan: version "foobar2000 1.3.12".
Both the file from BN and also directly from the author's download page give the same results from Avira AV when running the installer .exe file: Detection: TR/AD.NsisInject.8f0f0c (Cloud). Does NOT seem to be a "false positive" detection. This occurs immediately after double-clicking the .exe installer, before any further option choices would appear, such as allowing installation of Google Chrome, or other 3rd-party money generating add-on software. The software is very useful, except for the above noted problem.
dhry reviewed v1.3.12 Beta 1 on Aug 24, 2016
Beta 2 is out.
Music4Ever reviewed v1.3.8 on Mar 26, 2015
Superb player - Personally I prefer AIMP mainly for the skins but foobar is one of the best.
Antichrist reviewed v1.3.7 Beta 1 on Dec 23, 2014
I love foobar2000 but it really needs to come with at least an option of skins upon install like WinAmp does. If you have been driven away by its sparse look and gave up on it here's a skin I'd recommend which will most likely make you appreciate the player:

http://tedgo.deviantart....rt/DarkOne-v4-360862076

I also dig this for addon for adding lyrics to files:

http://www.foobar2000.or...ts/view/foo_uie_lyrics3
Enlightenment reviewed v1.3.6 on Dec 19, 2014
if you care MORE about high-quality music player instead of fancy moving themes that waste CPU cycles, then choose foobar2000

foobar2000 for audio player + another program for video player is the way to go!

foobar2000 is very light-weight and doesn't load up tons of junk just to play music
TGB72 reviewed v1.3.3 on Jul 27, 2014
My second choice, it's super versatile and the sound it's pretty good (not as good as AIMP) but it needs a decent equalizer urgently.
DKDude reviewed v1.3.3 on Jul 17, 2014
Still the BEST, thank you for a GREAT player.

Use it daily to stream radio and music from the Net, works as it should and always did.
roj reviewed v1.3.1 on Mar 14, 2014
Haven't tested the streaming to see if it's better (will leave it running today and will check this evening to see if it managed to retain connectivity to SomaFM) but the addition of the Export function for the error reporting on file integrity checking is enormously appreciated. Also have to check WASAPI with my Logitech USB Z-Cinemas to see if that now works properly as well. It didn't stall out on some 15,000 lossless files across my network either - awesome! Tentative FIVE stars.

Edit:

Streaming problems I iterated before aparrently solved - the player held tenaciously to SomaFM for well over 12 houts when it previously would inexplicably stop after 45 minutes (DeadBeef on Linux wouldn't falter over the same timeframe). Unfortunately, WASAPI 3.x remains broken with my USB Z=Cinemas where 2.x worked fine. So-called "improvements" should not remove previously available functionality - it seems to be a lesson that many devs today (ranging from Microsoft, GNOME and Mozilla to this one) need to learn.

Downgraded to FOUR stars.
chrispaul reviewed v1.3.1 on Feb 17, 2014
pretty good