File Details

File Size
7.6 MB
License
Open Source
Operating System
Windows (All)
Date Added
March 13, 2018
Total Downloads
22,669
Publisher
Robert Kausch
Homepage
fre:ac
Other Versions
Publisher's Description
fre:ac is a free audio converter and CD ripper which integrates various popular formats and encoders. It currently supports MP3, MP4/M4A, WMA, Ogg Vorbis, FLAC, AAC and Bonk files.
fre:ac makes it easy to convert your audio CDs to MP3 or WMA files which you can use in your hardware player or with your favorite audio software. The program supports the CDDB/freedb online CD database and CDText and automatically writes song information to ID3V2 or Vorbis comment tags.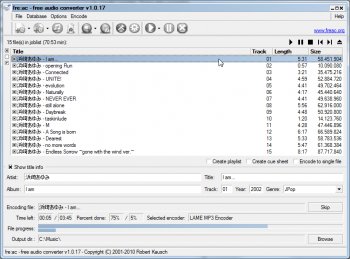 View Full-size
Latest Reviews
Someone reviewed v1.0.32 on May 17, 2019
play the free spades games. what experience to play the games http://myspades.org if you are first time play then you are forget the anything then you have dee the enjoyment of this games.
breebree reviewed v1.0.32 on Mar 14, 2018
got out my cd disks and converted. did them all in good time. added a few this Christmas and again it just worked , put them where i told it, as i wanted the layout for title/artist/ect.. this one works fine
BANDIT- reviewed v1.0.28 on Feb 24, 2017
Hats Off to Devs & Contributors Alike. Afraid the Flintstones
Nicked my A/v Converters years Ago... & WTF is a CD Ripper..??
Maybe A Big "Comeback" is Happening.. Can't wait for Win95... Yup. Win1895.

Absurd & 1*
carlvui reviewed v1.0.21a on Oct 2, 2013
Works fine without incidents, won't appear in the Windows control panel, add remove section and uninstall is only possible through its own uninstaller.
I would suggest using a third party uninstaller. I am not going to remove it, though
kerimachin reviewed v1.0.21a on Jul 22, 2013
great program. could use a solid update though.
DrTeeth reviewed v1.0.21a on Jul 20, 2013
Does what it says on the tin. I just wish the interface was more coventional.
DudeBoyz reviewed v1.0.19 on May 12, 2011
1019 is performing better than 1018 to be sure, with no crashes when dragging and dropping to the joblist, but 1016 is still working faster and it seems better.

But it does appear 1019 is getting back on track.

Historically, I'm one of this apps biggest fans - it just veered off course a bit over time is all. Until and unless this app gets to be as good as 1016, I can't grade it higher.
anomoly reviewed v1.0.19 on May 12, 2011
I've always loved this program but the last two times I grabbed the zip version from the site, the plugins folder is renamed differently from the last version I grabbed. Doesn't matter really because it still works.
pjafrombbay reviewed v1.0.19 on May 11, 2011
DudeBoyz I have had no problems running fre:ac on my AMD + Windows 7 Home Premium x64 based PC. It is IMHO one of the best CD rippers available. The fact that it is free is just a bonus.

I have just up-graded to this latest version but not tried it yet. That said, I have no reason to believe it will cause any problems.

I hardly ever give software products a 5* rating but this one deserves it.

Regards,
Peter
DudeBoyz reviewed v1.0.18 on Apr 10, 2011
1.0.16 is the last version that I have had success with. Both 1.0.17 and now 1.0.18 I have had problems with, so I will stick with 1.0.16 and probably go no further for the foreseeable future.

I liked it better when the product was called Bonk Encoder anyway, and 1.0.16 was, I believe, the last version still named Bonk Encoder.

Not sure where this product is going, but it seems to be leaving me, and stability, behind. :)