File Details

File Size
9.5 MB
License
Adware
Operating System
Windows (All)
Date Added
May 4, 2012
Total Downloads
8,103
Publisher
ESTsoft
Homepage
ALZip
Publisher's Description
ALZip is a powerful and user-friendly compression and archiving utility. It opens 36 file formats. ISO and BIN CD image formats can be opened as well as LCD virtual CD image files. Self-extracting files (SFX) can also be created with 1 of 4 cute icons, so anyone can open them without a ZIP utility. The password recovery tools lets you get back lost passwords for ZIP files. Powerful sorting lets you organize and manage large archives. Anti-virus integration and unknown file association defaults let you safely open any file inside of an archive.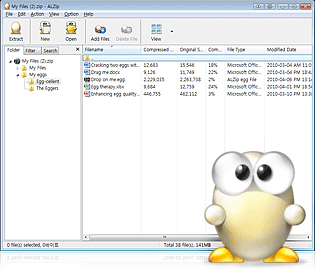 View Full-size
Latest Reviews
eblade reviewed v7.52 on Dec 26, 2009
ridiculously easy to setup a self-extracting exe, that auto-runs a setup. unfortunatly, a very slow archiver/dearchiver.
yokozuna reviewed v7.0 Beta 1 on Feb 13, 2008
Great archiver but with some quirks/peculiarities:
- not able to utilise more than one core. I have tested several archive formats and only one core was used. My poor Quad was lazing all the time...
- pity that it cannot create 7-Zip files
- still in v. 7.0 beta, however, there is Korean ALZip 7.13 final. Translations are soooo hard? In general, the Korean versions of the program are far ahead
- the webpage of ALTools is often dead
Prospero424 reviewed v7.0 Beta 1 on Aug 12, 2007
Nice software, but I get the same error that Todd13 did on every spanned RAR file I've tried so far. That's just not going to cut it. But I didn't really subtract any points from the score for that because it seems to be a problem that many or all freeware extractors share.

The animated character cavorting whenever the program is active is really annoying, though, and something the other free alternatives don't force on you. I did take off for this.
tickleonthetum reviewed v7.0 Beta 1 on Aug 2, 2007
This _was_ a great free program. I like the fact that when you extract files you can tell it to only overwrite existings ones if those from the archive are newer, this makes updating really easy.

However it has now become adware, as of 28th Feb it began downloading banner ads to display in all different places within the program. As I, like many people, have a fixed bandwidth allocation per month I am not going to share it with advertisers!

I've taken this app of my system now but will miss it dearly!
horsecharles reviewed v7.0 Beta 1 on Aug 1, 2007
Yes, yet another extract utility--BUT: it's interesting enough to try-- i recommend everyone visit the homepage... don't worry about the huge login box-- access is not restricted.

The pages do load a wee bit slower than normal, though.

For instance, i like what they did re Speed Extraction... fits my needs to a tee.

I'm giving it a shot.....
Todd 13 reviewed v6.32 on Aug 22, 2006
Hmm, I've used this for about a week now, and I was about to give it 5 stars...but yesterday I encountered a rar file that kept giving me CRC errors. I downloaded the file twice, deleting the first one, but still had the same problem. I decided to try using Winrar to extract it, and it worked. No CRC error. This may be an isolated case, but for now I am going back to Winrar. Just FYI. 3/5 for possible unreliability.
Zarastro reviewed v6.32 on May 23, 2006
I am using this little proggie a long time now and i am very happy with it. Sleek user interface,nice icons, fast reliable and free. Maybe the compression rating is not the highest out there, but for every day use i recomend it. 5 Stars from me!!
zridling reviewed v6.03 Beta on Sep 7, 2005
For what it does, it does well. Just wish it would drop ALS format in favor of 7z support. ALZip was reviewed this week along with other archivers here.
gate1975mlm reviewed v6.03 Beta on Jul 2, 2005
ALZip Rules!

ALZip is my new Favorite Zip software! It works great , Its Fast And can open lots of archives including BIN and ISO.

Looking forward to the new beta which should be out anytime now.
bounty1990 reviewed v6.03 Beta on Jun 13, 2005
This is a very fast reliable program and I would use it anyday over WinZIP, WinRAR, and etc. I am thinking about using more of this companies software . The UI could use some help but it runs fast and supports many formats without killing the computer. Thats what counts!!