File Details

File Size
1.6 MB
License
Freeware
Operating System
Windows 7/8/10
Date Added
July 20, 2017
Total Downloads
5,765,408
Publisher
Lavasoft
Homepage
Ad-Aware
Other Versions
Publisher's Description
Ad-Aware is designed to provide advanced protection from known Data-mining, aggressive advertising, Parasites, Scumware, selected traditional Trojans, Dialers, Malware, Browser hijackers, and tracking components.
Ad-Aware Free is available for personal home use only. Commercial use is prohibited.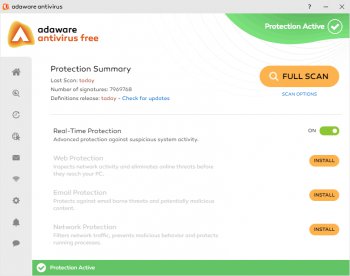 View Full-size
Latest Reviews
Enlightenment reviewed v11.8 on Aug 28, 2015
"AdwCleaner" is better, search for it in the BetaNews File Forum
CyberDoc999 reviewed v11.5.200 on Dec 30, 2014
funny how this used to be the #1 program ... now it is #999
and just plain junk
CyberDoc999 reviewed v11.3.6321 on Sep 3, 2014
Bloated
mikebratley reviewed v11.1.5354.0 on Mar 11, 2014
excellent
chrispaul reviewed v11.1.5354.0 on Feb 17, 2014
most excellent
CyberDoc999 reviewed v11.1.5354.0 on Feb 4, 2014
Lame
barrytbutler reviewed v11.1.5354.0 on Jan 29, 2014
seems like ad-aware is also adware lol. couldn't even get this removed from my system.
tomkelly reviewed v10.5.3.4405 on Aug 22, 2013
very solid tool
stevvie reviewed v11 Beta on Jul 26, 2013
Used to use this when it was good, haven't touched it in over 2 years, I too remember why. looks like they haven't learned.
robby3247 reviewed v10.5.3.4405 on Jul 25, 2013
dont install Ive tried uninsttalling for 2 days still cant get rid of it worse still cant install other security. no help from lavasoft screwed totally