Publisher's Description
Advanced Directory Comparison and Synchronization is a very fast and easy-to-use Folders and File synchronizer. Its main function is to synchronize files between two different directories or drives which can be on the same computer or different computers over a network. It is ideal for keeping files synchronized between a desktop & laptop and a very fast method of backing up critical directories.
Use ADCS for comparing and synchronizing folder contents. Select your two directories to generate an easy-to follow side-by-side comparison. A file size, a time/date stamp, and attributes are prominently shown, along with color-coded arrows clearly marking the status of each file involved in the comparison. You can apply filespec filters, copy selected files to the third folder, and execute synchronizations with a single mouse-click. ADCS will be useful for anyone, who shares documents/programs with friends and colleagues.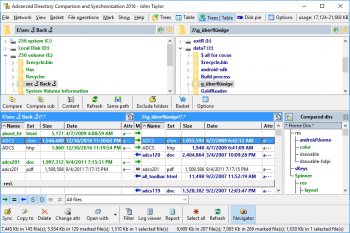 View Full-size
Latest Reviews
Be the first to write a review!