File Details

File Size
8.4 MB
License
Freeware
Operating System
Windows 7/8/10/Vista/XP
Date Added
October 29, 2019
Total Downloads
12,948,182
Publisher
Burnaware
Homepage
BurnAware
Other Versions
Publisher's Description
BurnAware products allow users to burn CD, DVD and BD discs with data, audio and video in a simple and hassle-free manner. These disc burning tools are intended for users seeking balanced, lightweight and easy to use burning tools for everyday use.
BurnAware Free is a full-fledged, easy-to-use, free burning software which allows users to write all types of files such as digital photos, pictures, archives, images, documents, music and videos to CDs, DVDs and Blu-ray Discs.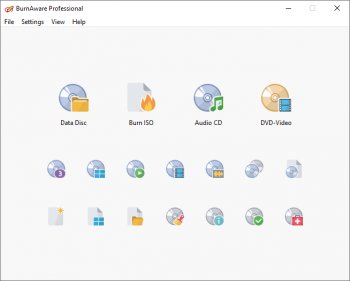 View Full-size
Latest Reviews
Someone reviewed v12.8 on Nov 12, 2019
Someone reviewed v12.8 on Nov 2, 2019
Absolutely free! Fully-featured packed. It provides all the tools you need to create a variety of different discs. www.mawnstermarketing.com
Someone reviewed v12.7 on Oct 24, 2019
Choosing a CD/DVD burning software is not quite an easy job anymore because there are quite a lot of dedicated tools out there. https://www.trademe.co.nz
Someone reviewed v12.7 on Oct 22, 2019
Reading by means of your enjoyable dispatch, desire further me to do so sometimes. http://grannygame.io
Someone reviewed v12.5 on Aug 27, 2019
And for players, coin master free spins are available here: https://coinmasterwealth.com
Someone reviewed v12.5 on Aug 21, 2019
Find your favorite sport at BT Sport, https://zvv4.com home of live sport, to watch all the recent videos, TV catch up, news, outcomes, fixtures and more.
Someone reviewed v12.5 on Aug 7, 2019
Ammo Board offering cheapest blazer brass 9mm, 9mm ammo, 380 ammo and many more. We never take an order for a product which is unavailable or out of stock. We work for all online ammo with free shipping and careful packaging. Get Free shipping always.
https://www.ammoboard.com/handgun-ammo/9mm
Someone reviewed v12.4 on Jun 28, 2019
Fantastic post but I was wondering if you could write a litte more on this software? I'd be very grateful if you could elaborate a little bit more. Kudos! www.magicphiladelphia.com
BetaZoid reviewed v11.1 on Mar 23, 2018
For all my needs, BurnAware is feature rich, easy to use, and works perfectly.
-Lord- reviewed v10.1 on Mar 17, 2017
Decent and good for med level users. (Advanced users should get imgburn)
For those concerned about unwanted payloads, go to their home page (click on any of the Burnaware links) and then scroll down to bottom of page. The last sentence of the paragraph contains a link to "no optional offers" version.

Also you can download free version without optional offers.