File Details

File Size
5.0 MB
License
Open Source
Operating System
Windows 2000/9x/Server 2003/XP
Date Added
September 22, 2008
Total Downloads
23,584
Publisher
The Mozilla Organization
Homepage
Mozilla Sunbird
Other Versions
Publisher's Description
Sunbird Project is a redesign of the Mozilla Calendar component. The goal is to produce a cross platform standalone calendar application based on Mozilla's XUL user interface language. The intended user is someone who uses Mozilla Firefox (or another browser) as his browser, Mozilla Thunderbird (or another mail client) as his mail client and wants a calendar application based on Mozilla.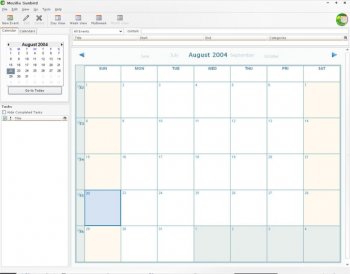 View Full-size
Latest Reviews
war593122 reviewed v0.9 RC1 on Sep 11, 2008
The following features have been added to Sunbird 0.9:

* Events spanning days now have a visual indicator indicating them as connected and not separated events

* When reloading a remote calendar a progress indicator is now shown

* The so-called "minimonth" (small calendar month in the upper left) has been given a visual overhaul

* The calendar views (day, week, multiweek, month) have been given a visual overhaul

* The today pane can now be displayed in calendar mode and task mode as well

* CalDAV support and interoperability with various CalDAV servers has been improved

* The application stability and memory consumption has been greatly improved
Someone reviewed v0.8 on Aug 28, 2008
its an acquired taste :)

after jumping from one calendar app to another and even trying outlook for a while i've grown to love this... i like keeping my calendar separate from my emails and if i must integrate them for whatever reason there's always lightning and google calendar sync :)
Sven123456789 reviewed v0.8 on Jun 20, 2008
Still a great product. Go out and waste money on a paper calender for the people who hate this.
Someone reviewed v0.8 on Apr 6, 2008
I agree it's a waste of both time and energy since you can go to the store and buy a calander.
The other problem that I have with the Mozilla project is in their addonn. These addons are most often unsigned which means the developer didn't want his/her name to appear when d/ling. This doesn't inspire a lot of confidence in what you are d/ling which is to bad because there is a lot of addons that I like but won't d/l because they are unsign.
improvelence reviewed v0.8 on Apr 4, 2008
A waste of time considering this can be done easier online.
Nahkanunna reviewed v0.8 RC2 on Apr 3, 2008
shicaca: Missing palm sync does not mean the rest of the functionality isn't top notch. You would rate palm dektop 5 stars then right? Damn kids
shicaca reviewed v0.8 RC2 on Apr 3, 2008
Sync to palm yet? Still one star.

Do they have a three year old coding this program? I know TV shows use twins b/c of child labor laws. I'm just wondering b/c this thing has been at more or less a standstill compared to other Mozilla projects.
Sven123456789 reviewed v0.8 RC1 on Mar 7, 2008
Good software package. Thanks to Wabonline. I couldn't find a link for holidays until you listed it here. As for being out of date like the one user said. Not sure what u downloaded. It came over fine for me. I new it was up to date because it listed the new daylight savings time thats arrives this Sunday. So how is that out of date. I checked future months, all holidays are fine. As for be sluggish. Came up quick for me. And my pc is 4 years old. As an FYI, Lightning is also good. No probs. there either with speed or add on's. I kinda use lightning with Thunderbird more often, but its good to have a stand alone calender program like this also..
monzi reviewed v0.7 RC3 on Oct 25, 2007
Nice free calendar app. On the downside its a bit sluggish and the development of this project is taking ages!
Kimoeagle reviewed v0.7 RC3 on Oct 24, 2007
The graphics are nice, but the program is slow and klutzy in comparison to other calendar programs. One must wonder at the slow pace of progress for this project vs. other Mozilla projects.