Other Versions
Publisher's Description
Mozilla Thunderbird is a redesign of the Mozilla mail component. The goal is to produce a cross platform stand alone mail application using the XUL user interface language. The intended customer is someone who uses Mozilla Firefox (or another stand alone browser) as their primary browser and wants a mail client based on mozilla that "plays nice" with the browser.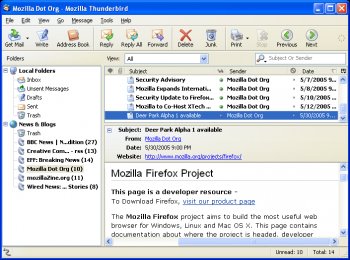 View Full-size
Latest Reviews
Sven123456789 reviewed v68.3.0 on Dec 3, 2019
Like allot of software that was good, this has jumped the shark. They followed firefox into the new version that doesnt allow old themes and add on's. I'll stick with the 60 version series. The morons at Mozilla wonder why firefox lost most of its user base now add thunderbird to the list.
M50 reviewed v68.1.0 on Sep 11, 2019
Since yesterday I have rectified the issues I was having. All is back to normal.(Please read pros and cons)
I have upgraded the star ratings accordingly.
JudySmith712 reviewed v60.7.1 on Jun 17, 2019
Loved the Product and would always use the same

Regards,
Judy Smith | Tech Support
www.o365cloudexperts.com
Benjamin786 reviewed v60.3.1 on Nov 19, 2018
Done
Monkey_Punch reviewed v60.2.1 on Oct 3, 2018
Been using TB since the beginning. As someone who clung to Eudora with a death grip, TB is the *only* decent and stable choice for me. I am glad they finally have 64-bit offering as 32-bit is dead, dead, dead. The performance of 64-bit TB is noticeable when launching the app and doing overall tasks. "Who uses email still?" say you Facebook hugging twonks? Everybody. I aggregate 5-10GB of email per year and 32-bit was chugging along but straining under the load of managing that much email efficiently. These days, people send you 10-20MB emails with monster JPGs and PDFs. 32-bit sucks at handling that well. 64-bit has been like a hot knife through butter managing my emails, filters and calendars. Plus, if it weren't for the calendaring feature and integration with my GMail, I'd forget what the heck I'm supposed to be doing on a daily basis. It's the best, sod the rest!
Sven123456789 reviewed v60.0 on Aug 14, 2018
A big update to version 60. Still rock solid. Be forewarned, lots of old complete themes and add on's don't work with this update. Though I used basically only 1 add (profile switcher) it did work in this version. Also found a couple of complete themes that work with ver 60. Everything else is fine. The calendar add on works. I've had no problems with overall use. Still the email software to use if you don't like your webmail to access your accounts.
Aegis69 reviewed v60.0 on Aug 14, 2018
60 is a risky update for me, I use a lot of addons and I have no idea how many of them will be useless after the update. Probably lots.
Monkey_Punch reviewed v52.8.0 on May 23, 2018
@psycros

"Would also be nice if they would natively support Gmail contacts and calendar"

I don't think Google opens their private API to third parties for native support. Kind of like sayin' "My Ford should work with Honda parts". Silly.

You can have Google Calendar (and, I think, Contacts) access via Lightning and Provider For Google Calendar.

TB 52.8 ESR works well as an email client and even better with my Google calendars. Waiting on 60 ESR now!
psycros reviewed v52.4.0 on Oct 7, 2017
Gettin' REEEAL tired of having my profile completely wiped when upgrading. Happens about every third release of TB. Would also be nice if they would natively support Gmail contacts and calendar, seeing as how their the most-used services of their kind. But hey, it would probably take devs three years to get it working right so maybe its just as well we have to rely on GContactSync and Provider for Google Calendar. That said, this is still the only totally free desktop email client that does most of what anyone could want and as far as I've heard its NOT going to be ruined like Firefox. For those of us fighting against the dumbing down of computing and the webification of everything, TB is an invaluable tool.
Sven123456789 reviewed v52.2.0 on Jun 16, 2017
Still the best email client. No problems encountered.