Other Versions
Publisher's Description
Mozilla Thunderbird is a redesign of the Mozilla mail component. The goal is to produce a cross platform stand alone mail application using the XUL user interface language. The intended customer is someone who uses Mozilla Firefox (or another stand alone browser) as their primary browser and wants a mail client based on mozilla that "plays nice" with the browser.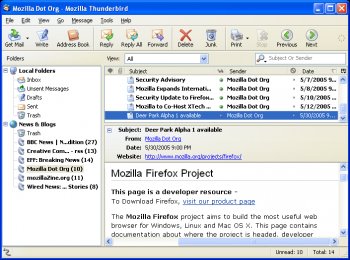 View Full-size
Latest Reviews
psycros reviewed v52.4.0 on Oct 7, 2017
Gettin' REEEAL tired of having my profile completely wiped when upgrading. Happens about every third release of TB. Would also be nice if they would natively support Gmail contacts and calendar, seeing as how their the most-used services of their kind. But hey, it would probably take devs three years to get it working right so maybe its just as well we have to rely on GContactSync and Provider for Google Calendar. That said, this is still the only totally free desktop email client that does most of what anyone could want and as far as I've heard its NOT going to be ruined like Firefox. For those of us fighting against the dumbing down of computing and the webification of everything, TB is an invaluable tool.
Sven123456789 reviewed v52.2.0 on Jun 16, 2017
Still the best email client. No problems encountered.
jack_alexander reviewed v52.2.0 on Jun 16, 2017
The current version has been delivered with some flaws as are pointed out on a Ghacks.com article.

I'd stick with the previous version for the time being, even though this new version has some decent updates, it still doesn't work as advertised.
Mike.huk reviewed v52.2.0 on Jun 16, 2017
I have used Thunderbird even when it was part of Mozilla Suite and have always found it to be excellent; stable, fast and rarely found bugs. Best email client around.
Aegis69 reviewed v52.1.1 on May 15, 2017
Hey partypoop, you MAY notice 'The Bat' is not a free program, so quit being a d***breath
tontito reviewed v52.0 on Apr 5, 2017
Been using it for several years but with punctual problems with images embedded with different encodings, witch results in totally deformated text on the receiver side or looping when sending the mail.
Lets see if this version finally solves it, at least it says it does.

Just checked the problem is not yet solved (10-04-2017).
Sven123456789 reviewed v52.0 on Apr 5, 2017
Still the best email client. Been using this for a decade with no problems. Have this on 4 pc's 1 with win 7, the others win 10.
Monkey_Punch reviewed v52.0 on Apr 5, 2017
Much improved, faster and less RAM hungry than previous versions.
partypop reviewed v45.7.1 on Feb 18, 2017
How are some users rating Thunderbird 5 star?
Its very heavy on system resources, super bloated, slow, importing mail from Outlook 2007 crashes which is a known bug since version 25 and its still not fixed. Its probably one of the better free options, its not complete junk, but compared to The Bat! this email program is a joke.
Music4Ever reviewed v45.7.1 on Feb 9, 2017
Simple mail client that does what it should, you may need go elsewhere if you need more features or complexity, never had problems with it on any Windows version.