Other Versions
Publisher's Description
Spybot Free Edition is an on-demand anti-spyware scanner. Spyware is software that not only gathers information about your activities on the Internet without asking your permission but also can change the configuration of your computer. The actions or information gathered by of this type of software can be used for targeted advertising and also for forcibly directing you to certain websites. Spybot searches your hard disk for all known types of spyware, adware and potentially unwanted programs. It offers powerful features to remove these threats and thus protect your privacy. It automatically detects adware networks, attempts at host redirection, registry modifications or unwanted changes in the browser configuration of Internet Explorer, Firefox and Opera. If an attempt is made to redirect your computer to a different name server without your permission Spybot can detect and stop this happening.
Another way that Spybot protects your privacy is by removing "Usage Tracks". Usage tracks are the history of websites you have visited, web pages pages you have opened, documents you have read or edited, programs you have run and other information recording your activities. This information is stored on your computer and can be useful as it can speed up access to data but it can also be used in attempts at identity theft or to compromise your computer. Spybot can remove the Usage Tracks that could possibly cause problems if used by an attacker. Spybots team of â??Forensic Detectivesâ?? constantly monitor the Internet for new threats and attack vectors so it is important, that in order for software to give maximum protection, it is regularly updated. The signatures for Spybot Free Edition are updated once a week.
Spybot +AV is a licensed version of Spybot that enhances the protection offered by Spybot Free Edition. This product not only protects against spyware but also incorporates an aware winning antivirus engine licensed by Bitdefender.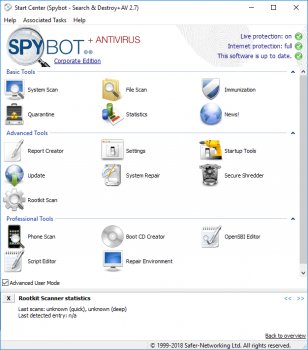 View Full-size
Latest Reviews
Someone reviewed v2.7.64.0 on Oct 22, 2019
This post really worth checking out. . http://grannygame.io
Someone reviewed v2.7.64.0 on Aug 27, 2019
A lot of people want to be famous on TikTok, but there isn't many ways to get it. Follow this tutorial to use the best tiktok generator and get your new fans at https://www.tiktokfreefans.com
Someone reviewed v2.7.64.0 on Jul 10, 2019
Immunization feature is the best here. Overall this Spyboy is saving my computer from potentially dangerous software on every day basis. Plus it doesn't block websites like https://cheapessaywriter.net/ that I use.
Someone reviewed v2.7.64.0 on May 24, 2019
Box para banheiro Curitiba - A empresa é especializada em box para
banheiro Curitiba, box vidro Curitiba, box Curitiba, vidraçaria em
Curitiba, Fachada, box para banheiro, portas, janelas, espelho, sacada.
https://www.boxparabanheirocuritiba.com/
Skikrazi reviewed v2.3.39 on May 13, 2014
Love Spybot 2.0. After 2 weeks of struggling trying to remove Coupon Dropdown, I finally tried Spybot 2.0 and it was the only one that worked--after trying Malwarebytes anti-Malware, McAfee and many others.
NyaR reviewed v2.3.39 on Apr 29, 2014
I like the immunization feature, that's all I like. I run it once a month or so. However, for some reason, SpyBot wants to run on startup every time.

System services are all deactivated (security center, scanner, updating). All system integration is deactivated/uninstalled. However, for some strange reason, SpyBot runs on startup.

I have unchecked every option within the program but it still wants to run on startup. WHY? I just want to use the immunization feature. Why is it so difficult to design the application to not run on startup? It is doing absolutely nothing when it runs. It isn't scanning, it isn't immunizing, it isn't updating, WHY IS IT RUNNING ON STARTUP? Why do I need to use a 3rd party tool to remove your application from startup? Honestly it is really simple, don't force your app to run if the user doesn't want it. Who are you to decide you know better?
mikebratley reviewed v2.2.25.0 on Mar 11, 2014
good stuff
olivergiving reviewed v2.1.21 SR2 on Sep 25, 2013
3 stars only
nvic reviewed v2.1.21 SR2 on Sep 24, 2013
This has been Bloatware ever since 2.x came around, and detection rates aren't all that great compared to something like MalwareBytes. You're better off looking elsewhere for anti-spyware now.

Yes it has more features, but many of them are unnecessary. Some of the paid stuff like command line options is available in the older version for free.

Using 1.6.2, and plan to keep doing so.
tomkelly reviewed v2.1.21 SR2 on Aug 22, 2013
love it