File Details

File Size
241.2 MB
License
Freeware
Operating System
Windows 7/8/10/Vista/XP
Date Added
May 10, 2018
Total Downloads
138,959
Publisher
AVAST Software s.r.o.
Homepage
avast!
Other Versions
Publisher's Description
avast! is an antivirus set that is able to detect the presence of viruses in computers. It has a powerful antivirus kernal that has a boot-time scan, improved resident protection, heuristic analysis for email, and a script blocker. The program works great as a on-demand and/or resident virus scanner. The skinable interface is easy to use for any user.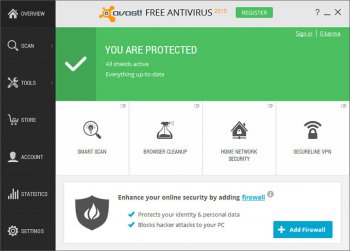 View Full-size
Latest Reviews
grinch89 reviewed v17.5.2303 on Jul 19, 2017
Have tried it on several occasions, same story works for a bit then screws up. No more trials, end of story.
Picasso reviewed v17.4.2294 on May 4, 2017
This software is dangerous. Don't use it!!!
Lsavagejt reviewed v12.4.2281 Beta on Nov 8, 2016
What a load of crap, adware at every turn, and just to think, along with Ad Aware, and SpyBot, Avast! was at one time a pioneer in alternative (meaning free) AV. Now it's all about the money.
tim_tester reviewed v12.4.2281 Beta on Nov 5, 2016
over bloated will bring your pc to a crawl
johnusa reviewed v12.3.3154.0 on Aug 19, 2016
BetaNews, could you also please put a link for the full off-line version?
Thank you.
This is possiby the best and top-rated FREE anti virus software.
Lsavagejt reviewed v12.2.2276 on Aug 1, 2016
Had a problem installing this on my windows 10 system, even after granting it elevated firewall permission, the avast service froze, and the avast repair module was useless.
minklein reviewed v12.1.2272 on Jun 23, 2016
I can find no fault with Avast. I am running Win10 and it has performed perfectly. The logo in the tray flashes when it is scanning, checks Email scans at boot, web pages, I like it better than the stock Win Defender.
some guy reviewed v12.1.2272 on Jun 21, 2016
PC mag is bought and paid for want to see real test ?
http://www.av-comparatives.org/detection-test/
johnusa reviewed v12.1.2272 on Jun 21, 2016
This is the top rated free AV according to PC Magazine.
Correction:
The actual version of this newly released program today is 12.1.2276 not 72 as it is mentioned here.
Matthewsadmin reviewed v2016 11.1.2253 on Feb 11, 2016
previously i am used Avast and I messed up with so many issues in my PC. It started suspecting normal files as virus. So i uninstalled avast and went to Comodo Free Antivirus and it seems to be good.
https://antivirus.comodo...load-free-antivirus.php