File Details

File Size
33.3 MB
License
Freeware
Operating System
Windows (All)
Date Added
October 6, 2017
Total Downloads
1,215,221
Publisher
Mozilla
Homepage
Mozilla Firefox
Other Versions
Publisher's Description
Mozilla Firefox is a free and open source Web browser descended from the Mozilla Application Suite and managed by Mozilla Corporation. Firefox is the second most widely used browser.
To display web pages, Firefox uses the Gecko layout engine, which implements most current web standards in addition to several features that are intended to anticipate likely additions to the standards.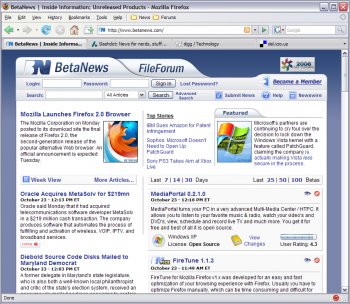 View Full-size
Latest Reviews
Sven123456789 reviewed v56.0.1 on Oct 9, 2017
version 56 was o.k. but this update to 56.0.1 killed my fav theme. I also fooled around with version 57. Wow, that killed all my add on's. Including an important one called classic theme restorer. Like allot users, I'll move on from Firefox now.
cltx99 reviewed v56.0.1 on Oct 8, 2017
Looks like FF is going backwards not forward.
Aegis69 reviewed v56.0.1 on Oct 6, 2017
Sorry firefox I cant follow you this time, the change is too big and losing all my addons is just not acceptable for the speed increase, which honestly you should have been working on speed 4 years ago, now its too late. If they are just going to turn themselves into Chrome, then why wouldnt I just use chrome? The whole reason I was using Firefox is because its NOT CHROME!

Waterfox is working fine for now, I'll stick with it as long as I can.
Picasso reviewed v54.0.1 on Jun 30, 2017
Firefox is the best browser imho but it's not as fast as Chrome I'm sorry to say.
psycros reviewed v54.0.1 on Jun 29, 2017
Mozilla has turned Firefox into a painful joke.

* Same filenames used for 32-bit and 64-bit versions.
* Install process that tries to install 90's-era background monitor. Puts a shortcut on your taskbar without asking.
* Bloat, bloat and more bloat. Nodody gives a damn about Pocket, "reader mode" or the other garbage. Thankfully it can all be disabled with a little bit of tweaking.
* Change for change's sake has driven off many of the best addon developers.
* Default UI is a copy-n-paste of Chrome. Thank god for Classic Theme Restorer..but how long until idiots at Mozilla decide to break it?
* Breaks about a third of e-commerce sites I've visited over the past six months.
* SLOOOOOOOOOOOOOOOOOOW. So, so, slow.

So if FF looks just like Chrome, has driven most of the best devs to Chrome and its slower and breaks more sites than Chrome...why not just use Chrome? After well over a decade of championing FF I have switched to Chromium as my primary browser out of necessity. I don't use anything that requires a Google login so Chromium is the closest thing I can find to what FF used to be.
cltx99 reviewed v54.0 on Jun 18, 2017
Working very well, indeed.
anonswgeek reviewed v54.0 on Jun 17, 2017
running fine on my 3 year old PC - latest Windows 10 build 64-bit, 16GB RAM, SSD. i tried this new build of Firefox for a week, before that i tried Chrome. both run fast enough. I think firefox is running faster with this new v54. Before this i had XP running and firefox froze when 2GB memory limit was reached. hence my upgrade to 64-bit Windows. good job Firefox way to go!! ignore the last 2 reviwers, pair of ???? haha
LakotaElf reviewed v54.0 on Jun 17, 2017
Have to agree here, Firefox has become a bloated piece of junk that definitely does not work correctly. The took out the good stuff and put in the code that just simply does not work correctly. One idea I had and it seems to work well, get a build before Firefox 50 and it seems to be ok, but still can be slow. I got rid of all firefox browsers, it is not worth the aggravation it gives you and you hope when you install their newest it will be fixed and work correctly. Maybe all of us live in Fantasy land too long, time to move on, Firefox is a has been and now it is time to go to another until it breaks down also. Even Cyberfox is slowing down greatly and does not work correctly as it should all the time. Sad, the fox is a has been in all new builds.. (:
Zootopia3001 reviewed v54.0 on Jun 15, 2017
I've tried and tried and tried to resolve recent Firefox issue of stuttering animations, like on Bing homepage if they have an animated daily wallpaper, or with videos, including live streaming like on Xfinity TV. Issue happens on both Win7 32-bit and Win10 64-bit, both being Duo Core Intels with decent graphics cards (one AMD and one Nvidia). My best result at trying to resolve the issue was on Win10 64-bit with installing 32-bit FF, but still falls short on performance. Somewhere between versions 45 and 53, something got messed up by the Mozilla developers. Firefox ESR 45 works just fine, but an upgrade to FF 52 ESR or even 53 monthly build brings the debilitating issue. I highly doubt the issue has been resolved with this new monthly release, and I also highly doubt the Mozilla developers even care, and suspect they do know of the issue. Chrome, Edge and even Maxthon does not have the issues mentioned.

Because of this, I have dumped FF on Windows 7 and only keep FF 32-bit as a standby browser on Windows 10 64-bit.
cltx99 reviewed v53.0.2 on May 8, 2017
My home page is appearing again instead of a blank page and after dozens of times of installing and uninstalling, because of assorted problems, it finally seems to be working well, so far. If it starts screwing up, I have WaterFox waiting in the wings.