File Details

File Size
42.3 MB
License
Freeware
Operating System
Windows (All)
Date Added
April 11, 2018
Total Downloads
981,714
Publisher
Opera Software
Homepage
Opera
Other Versions
Publisher's Description
Opera Web browser offers the best internet browsing experience available. Discover what over 20 million people have already experienced by downloading Opera's fast and safe internet browsers. Features include Speed Dial, Search Shortcuts, and Trash Can.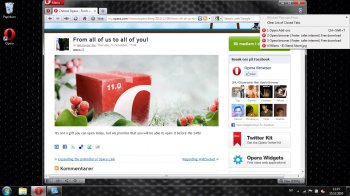 View Full-size
Latest Reviews
Morningdove reviewed v52.0.2871.64 on Apr 20, 2018
Opera has become my default browser after finally giving up on Firefox and testing Google Chrome for about an hour before uninstalling it. The only real concern is the attempted UDP connection each time my bank account password is entered. This possibly nefarious attempt to connect to the Internet is causing me to consider changing to a different browser, possibly Vivaldi. The problem is that using an even less supported browser may cause additional web sites to be non-operational, which is already somewhat of a problem with Opera.

Opera is complete only after adding extensions V7 Bookmarks, V7 History, a pdf file viewer and a few others.
elopez17 reviewed v50.0.2762.45 on Jan 10, 2018
Super
The Old Man reviewed v46.0.2597.46 on Jul 17, 2017
Awesomely quick for me I prefer this to FF. I really like this build onwards, I am sticking with opera now
TGB72 reviewed v46.0.2597.39 on Jul 6, 2017
Far more stable than firefox
grisla reviewed v46.0.2597.26 on Jun 23, 2017
Opera is back! Excellent browser.
Lsavagejt reviewed v45.0.2552.898 on Jun 17, 2017
Sold to China. So what? Collects personal data? Completely unfounded. Excellent browser.
krgood reviewed v45.0.2552.898 on Jun 15, 2017
Sold to China, Collects personal data, sends to China. No Thanks
Terumo reviewed v45.0.2552.888 on Jun 1, 2017
I dont like Opera, its that simpel.
Lsavagejt reviewed v45.0.2552.881 on May 27, 2017
I really like this browser. Pros: Long history of solid, consistent development, yet low market share means lower susceptibility to exploitation by hackers; light-weight, customizable, built-in vpn, ad-blocker.Everything works. Con: momentary delay on exit (not sure why).
Lsavagejt reviewed v42.0.2393.517 on Jan 27, 2017
Fast, stab;e, aesthetically pleasing and customizable. No bull****. Way better than Firebloat..