File Details

File Size
96.9 MB
License
Shareware, $59.95
Operating System
Windows 7/8/10/Vista/XP
Date Added
July 10, 2017
Total Downloads
31,169
Publisher
Iolo Technologies LLC.
Homepage
System Mechanic
Other Versions
Publisher's Description
System Mechanic keeps your PC running at peak performance and stability with advanced PC tune-up, repair and maintenance features. Using 7 safe and effective tools, its exclusive patented technology fixes registry errors, defrags hard drives, cleans up junk files, accelerates downloads, boosts Windows speed and ensures maximum ongoing system stability. Consistently top-rated since 1998, this award-winning performance solution is trusted by over 40 million people to keep over 75 million PCs worldwide problem-free and running like new.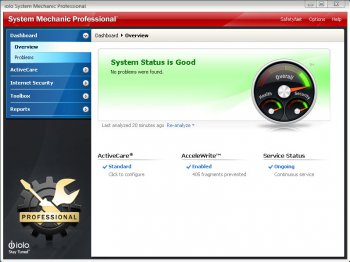 View Full-size
Latest Reviews
gsteele reviewed v16.5 on Feb 14, 2017
So old and usless, it only works on coal fired PC's.
CyberDoc999 reviewed v16 on Jul 5, 2016
also comes with a free Brooklyn Bridge
CyberDoc999 reviewed v14.0.1 on Oct 20, 2014
wins the award of worst program ever made!
bloated and slow did not fix any problem!
BANDIT- reviewed v14.0 on Jul 30, 2014
And yet "Another" push..... from 90's Software.
It wasn't really good in the 90's either, Altho popular.......... 2*

It joins the Ranks of DvDFab, Nero etc.
niknetpc reviewed v10.5 on Oct 31, 2011
Terrible cleaner. If you use it from time to time you also got repair or reinstall Win time to time )
Shylock reviewed v9.5.9.2 on Jul 9, 2010
Fail in x64 OS.
Terijan reviewed v9.5.7.13 on Apr 1, 2010
Very buggy soft. Avoid it all costs.
After i installed it i could not remove it: system hangs up after uninstall, forced PC restart and windows don't boots anymore, unless you allow System restore to fix it. System restore fixes it but you have again this program in your PC :P

... so i had to re-install windows >.< ....
by the way, other programs like Yamicsoft gives you more options than this System Mechanic also there are some free windows tunning soft ...
CyberDoc999 reviewed v9.5.7.13 on Mar 28, 2010
Avoid this at all cost!
very buggy
JustForMyMemory reviewed v9.5.6.9 on Feb 13, 2010
a software of devil, it is a monster
freddybubo reviewed v9.5.3.3 on Feb 9, 2010
System Mechanic Pro 9.5 - There are some oddities in the "System Shield" anti-virus section of this package that can cause you to lose files due to bugs when downloading. (They download then get deleted with NO WARNING)
This has been reported to Iolo, but the company are not interested in fixing these bugs as they are only going to happen to very few files and they don't think anyone will notice. I found one example file which (If you can download it) you can scan and prove that it is safe. (Even with System Shield!)
Try downloading;
http://download.softpedi...h/CPUFreeBenchMark2.zip
and you will see the bug - a zip file downloads, then the contents of the file are deleted leaving an EMPTY zip file!
Use this only at your own risk!
Iolo suggest excluding the downloads folder from the anti-virus scan!
How stupid would that be?