File Details

File Size
11.1 MB
License
Open Source
Operating System
Windows 7/8/10/Vista/XP
Date Added
October 14, 2019
Total Downloads
6,464
Publisher
Andrew Ziem
Homepage
BleachBit
Publisher's Description
BleachBit quickly frees disk space, removes hidden junk, and easily guards your privacy. Erase cache, delete cookies, clear Internet history, remove unused localizations, shred logs, and delete temporary files. Designed for Linux and Windows systems, it wipes clean 70 applications including Firefox, Internet Explorer, Flash, Google Chrome, Opera, Safari, Adobe Reader, APT, and more.
Beyond simply deleting files, BleachBit includes advanced features such as shredding files to prevent recovery, wiping free disk space to hide traces of files deleted by other applications, and vacuuming Firefox to make it faster.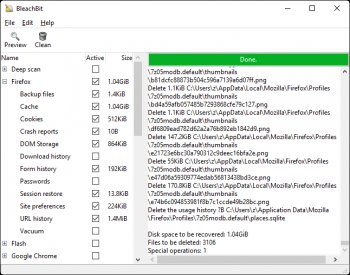 View Full-size
Latest Reviews
Music4Ever reviewed v0.9.5 on Jan 14, 2013
I wonder if they ever will dare take it out of Beta? :-) I use it all the time in Linux ~
Music4Ever reviewed v0.9.3 Beta on Jun 22, 2012
Never had any issues either in Windoze or the Linux version that's also updated.
TomA102210 reviewed v0.9.2 Beta 2 on Mar 12, 2012
Used without any negative effects. For those who are able to set a restore point, set one before use. If a problem is encountered, go to the restore point and the problem should be solved. That is, if you are able to boot up. Try safe mode first though.
some guy reviewed v0.9.2 Beta 2 on Mar 12, 2012
I like the CC cleaner
Uriel reviewed v0.9.1 Beta on Nov 2, 2011
This just keeps getting better and better all the time. I need to run this application first on slow computers that are heavily laden with junk files and privacy trackers in order for CCleaner to work properly. If I don't CCleaner pretty much freezes during analysis.
coover reviewed v0.9.0 on Sep 12, 2011
Very interesting, but dangerous software. I

I took a chance and used this application, and then spent a full day trying to repair the damge it caused.

If you use this, be VERY carefull. It may delete important system files.
Uriel reviewed v0.9.0 on Aug 31, 2011
Open source and awesome. This app disinfects what little CCleaner along with CCenhancer misses.

It's been a while since an update was published, so I'm glad to see this project is still alive.
anomoly reviewed v0.8.8 on Jun 15, 2011
The only problem I have is that it will work for a day or two and then simply show the error log message and refuse to open at all. Strangely whenever I have tried to fix that by deleting the portable version's folder and starting over it does the exact same thing.
It uses ccleaner's winnapp2.ini file. If this problem occurs again I may have to switch to cc. It will not update through a proxy either. Plus, even if there is an 'error' log, I'd prefer to not have to close the notification every single time I run the ap. It needs the ability to simply be ran and do what it needs to do and then close all by itself without having to click (your heels) 4 times.
The previous portable beta left no seemingly apparent files, folders, or registry entries after I deleted it.
I'll give it one more try and then that's all. And I did and it simply crashed. bye bye
CyberDoc999 reviewed v0.8.3 on Dec 15, 2010
sound like it was made for the porn addicts
Uriel reviewed v0.8.2 on Nov 16, 2010
Open source and does the job. Make sure you do a quick backup of your bookmarks or favorites first so that you can restore them after bleaching the hell out of your browser. This app really disinfects your browser from all history. I highly recommend it.