File Details

File Size
1.0 MB
License
Freeware
Operating System
Windows 7/8/10/Vista/XP
Date Added
March 21, 2018
Total Downloads
31,067
Publisher
SingularLabs
Homepage
CCEnhancer
Publisher's Description
CCEnhancer is a small tool which adds support for over 450 new programs into the popular program CCleaner. The tool uses the winapp2.ini system built into CCleaner to easily add new rules and definitions for programs. The rules were sourced mainly from the Piriform Support Forum, with several sourced from other places around the internet.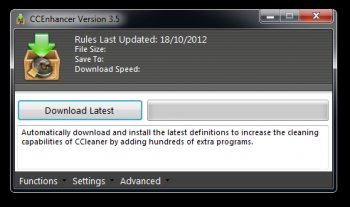 View Full-size
Latest Reviews
Uriel reviewed v4.4.2.1 on Jul 15, 2017
The bad reviews are likely from people who make a living on tracking your surfing habits, law enforcement, and black hat hackers. Keeping a clean machine is like keeping a clean house. They are both nice and tidy and clutter free.
Aegis69 reviewed v4.3.1 on Jul 6, 2015
All this deleting stuff is rarely necessary. Most programs have a limit to how much they will cache, so when it hits that limit then it will start deleting the old stuff, like browsers do. If you delete the cache then the first thing the program will do next time you run it is start fulling up the cache again. Most of the things deleted by CC are silly, and in some cases will make it so you can no longer uninstall or update some applications.

And 99% of the time when I see someone swearing by a program like CC, they are the dumbest mutherfukker computer users in the universe.
Blaxima reviewed v4.2 on Nov 27, 2014
The only change is the "Download Latest" button is now flat and eye bleedingly bright blue. Yet the progress bar remains a gradient!? Other than the cosmetics to align with the ugly Windows 8, it does the exact same thing as the previous version which is, enhance CCleaner
Music4Ever reviewed v3.9 on Feb 17, 2014
Simply adds the winapp2 rules to CCleaner & Bleach Bit - Great program.
barrytbutler reviewed v3.8 on Jan 29, 2014
great tool that i use on a regular basis. need to know what you're doing with it though!
Stoerpser reviewed v3.6 on Oct 24, 2012
@HeilNizar

Does not sound bad!
However, since you are applying yourself here your program and my firewall Commodore says
that your program contains malware....
I'm trust of course Piriform rather than you.
Sorry!
knownware reviewed v3.5 on Jul 24, 2012
Pretty good tool that I use a lot actually.
HeilNizar reviewed v3.4 on Jul 7, 2012
Good, but here is an even better one by me that will update both Winapp2 and CCleaner itself..
http://heilnizar.deviant...napp2-Updater-312311257

And no need to donate :P
Music4Ever reviewed v3.3 on Apr 30, 2012
As Microsoft in their Infinite wisdom log each & every action you do which is totally unnecessary this is a good & needed add-on ~

Maybe, just maybe MS make take on-board Unbuntu 12's idea of 'No Logging' (duh) unless you want it - Of course that will never happen ~
Music4Ever reviewed v3.2 on Mar 27, 2012
Good add-on, but use with care although I haven't had any issues.