File Details

File Size
16.8 MB
License
Freeware
Operating System
Windows 7/8/10/Server 2012/Vista/XP
Date Added
November 12, 2018
Total Downloads
597,489
Publisher
Piriform Ltd.
Homepage
CCleaner
Other Versions
Publisher's Description
CCleaner is a freeware system optimization, privacy and cleaning tool. It removes unused files from your system - allowing Windows to run faster and freeing up valuable hard disk space. It also cleans traces of your online activities such as your Internet history. Additionally it contains a fully featured registry cleaner.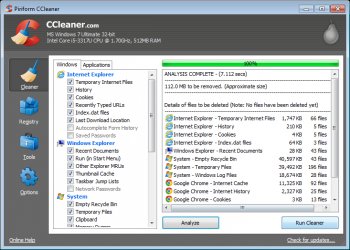 View Full-size
Latest Reviews
contains NO Spyware or Adware ??????

Have you been reading the news at ANY other tech sites lately?

Go ahead, we'll wait!
Joseph A reviewed v5.45.6611 on Aug 5, 2018
Attention: Version 5.45 of CCleaner has been removed from its mother site! This version has been the subject of heavy criticism due to its invasive behavior and bad privacy policies.

Piriform has pulled back to version 5.44 and promised to improve on the above issues in future versions. The link to get the version 5.44 back is https://www.ccleaner.com/go/get_ccfree.
Zootopia3001 reviewed v5.45.6611 on Jul 25, 2018
Still like this cleaner. Just have to be real careful on update install to opt out of crapware. I also block its access to internet with firewall, and disallow monitoring and autocheck for update. It is kinda slow on Windows 10 bootup cleaning, but overall effective still.
fredreed reviewed v5.43.6522 on May 31, 2018
This is nothing but crapware and spyware. If you use this then you will be buying another PC. Stay far away from this garbage as much as you can.
Music4Ever reviewed v5.43.6520 on May 23, 2018
On the paid version they opt you in to share info/analytics with other parties, you have to find to opt out section.Way beyond disgusting, & will never pay for this product again.
some guy reviewed v5.40.6411 on Feb 14, 2018
you can'y go wrong, been using it for years, a great program to keep things tidy,
Soozy reviewed v5.40.6411 on Feb 13, 2018
Long time user, but not longer.
kstev99 reviewed v5.36.6278 on Oct 24, 2017
Like Music4ever said: Over 1 Billion Served. Excellent Program
wx4545 reviewed v5.36.6210 on Sep 20, 2017
Four
Soozy reviewed v5.36.6210 on Sep 20, 2017
This build isn't even on their site yet or through CCleaner.