File Details

File Size
10.4 MB
License
Freeware
Operating System
Windows 7/8/10/Server 2012/Vista/XP
Date Added
January 16, 2018
Total Downloads
593,052
Publisher
Piriform Ltd.
Homepage
CCleaner
Other Versions
Publisher's Description
CCleaner is a freeware system optimization, privacy and cleaning tool. It removes unused files from your system - allowing Windows to run faster and freeing up valuable hard disk space. It also cleans traces of your online activities such as your Internet history. Additionally it contains a fully featured registry cleaner. But the best part is that it's fast (normally taking less than a second to run) and contains NO Spyware or Adware.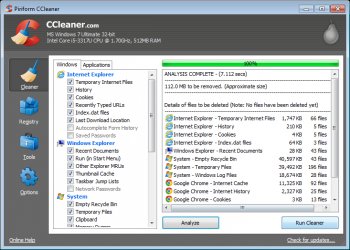 View Full-size
Latest Reviews
kstev99 reviewed v5.36.6278 on Oct 24, 2017
Like Music4ever said: Over 1 Billion Served. Excellent Program
wx4545 reviewed v5.36.6210 on Sep 20, 2017
Four
Soozy reviewed v5.36.6210 on Sep 20, 2017
This build isn't even on their site yet or through CCleaner.
Plymire reviewed v5.34.6207 on Sep 12, 2017
ccleaner v5.34.6207 nag screen nags you to buy it after every 5 cleanings - they have become slaves to the dollar also.
Music4Ever reviewed v5.31.6105 on Jun 15, 2017
@fredreed - CCleaner was first intoduced around September 2003 & has been downloaded about 1.5 billion times (billion not million) If it (fails) works as you say do you really think it would stil be around?

The next PC this program buggers up will be the first & I have used it from the very beggining. However I would be interested as to which cleanup program(s) you feel are safer/better?

200 Badillion stars!
fredreed reviewed v5.31.6105 on Jun 15, 2017
Anyone who downloads this program is asking for trouble. This is the worst program ever and I recommend that you all stay away from this garbage. There are far better programs out there the this. Downloaders beware.
Music4Ever reviewed v5.29.6033 on Apr 21, 2017
Best cleanup program there is - Never caused me a single problem - 2 Billion stars ~
coch reviewed v5.28.6005 on Mar 14, 2017
Lol@ fredreed "you will destroy your pc"
Thx you made my day
BANDIT- reviewed v5.25.5902 on Dec 13, 2016
Tested Over the Years... Used for Years by 5* Voters.
A Proven & Worthy App by Lots of the Guys @FFBeta.
I Gotta Say tho.. I Still Remove Some Elements Manually.. Habit..!!

I've got Some 12 Android (Boxes / S.Fones / Tablets) Blahhhhh.
They've All Got CC Installed... Nuff Said I Guess.

Every-One to their Own..Ha.

Mez X & H N-y.. To Members & Peeps.
plasticpig72 reviewed v5.23.5808 on Oct 19, 2016
This is an excellent piece of software, I have used it for many years and not once had an issue. I can't help but think of the saying workman and tools in respect of those who have rated it so low.