File Details

File Size
19.7 MB
License
Freeware
Operating System
Windows 7/8/10/Server 2012/Vista/XP
Date Added
June 6, 2019
Total Downloads
600,152
Publisher
Piriform Ltd.
Homepage
CCleaner
Other Versions
Publisher's Description
CCleaner is a freeware system optimization, privacy and cleaning tool. It removes unused files from your system - allowing Windows to run faster and freeing up valuable hard disk space. It also cleans traces of your online activities such as your Internet history. Additionally it contains a fully featured registry cleaner.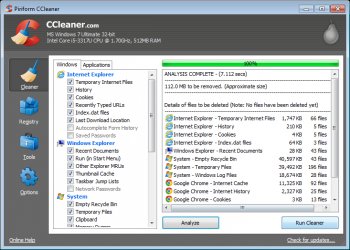 View Full-size
Latest Reviews
Someone reviewed v5.58.7209 on Jun 13, 2019
Download Hp Printer Assistant Application for Troubleshooting All Technical Issues and Fix all Hp Printer Problems like Paper Jam, Printer Don't Print, etc with the help of Hp Support Assistant
Get Hp printer Tech support phone number with the Link hp.com/support provides, Hp Printer Support is Available 24/7.

http://hpprinterassistant.us/
Someone reviewed v5.58.7209 on Jun 8, 2019
Hello, I am so delighted I located your blog, I really located you by mistake, while I was watching on google for something else, Anyways I am here now and would just like to say thank for a tremendous post and an all round entertaining website. Please do keep up the great work.
http://geometrydashfree.com/
Antonia82 reviewed v5.55.7108 on Mar 27, 2019
Now switched to Cleanmgr+ from the old dev team of Xleaner
https://www.getclone.app/download/cleanmgrplus
Slug_Coordinator reviewed v5.55.7108 on Mar 14, 2019
I use to really like CCLeaner but now the Startup Ads drive me nuts... Looking for a good replacement,..
Stanley61 reviewed v5.54.7088 on Mar 6, 2019
I stopped using CCleaner, I used to use it and recommend it to clients. I now use & recommend Bleachbit, which is an open source free cleaner.
Music4Ever reviewed v5.52.6967 on Jan 17, 2019
Was the best now don't use it I am a pro customer until my licence runs out - At the moment it's blocked by my firewall - Use Wise, Clean Space or Privacy Eraser - No points.
JonIn92656 reviewed v5.52.6967 on Jan 17, 2019
I will never purchase or use any Avast product. They suck!
Weilan reviewed v5.51.6939 on Dec 14, 2018
It used to be good, but since Avast got it, they put their malware inside. It's constantly turning itself on, doing monitoring, who knows what else.

I switched to the Wise products.
some guy reviewed v5.50.6911 on Nov 30, 2018
still a great tool cc version 5.50.69 under advance settings unchecked box sharing program , turn off automatic updates off
block with a god send of a program
Windows Firewall Control now free but donates are good:)
https://www.binisoft.org/wfc.php
kstev99 reviewed v5.50.6911 on Nov 29, 2018
I have used ccleaner for years, but since it was purchased by Avast, its questionable whether this program that is supposed to increase your privacy actually hurts it instead.

I even purchase the pro version about a year ago because of the nagging and wanted to support this program that I have used for years, but the annual subscription thing just plain sucks and I will not be renewing and am now using Wise Disk Cleaner instead.

I mean, what is the purpose of the app calling home when it doesn't even update itself? I have to read about an update on fileforum and then manually update. Sorry ccleaner but after my one year subscription expires I may keep an OLDER version on a flash drive for emergencies but that is it.